A weekend in…New York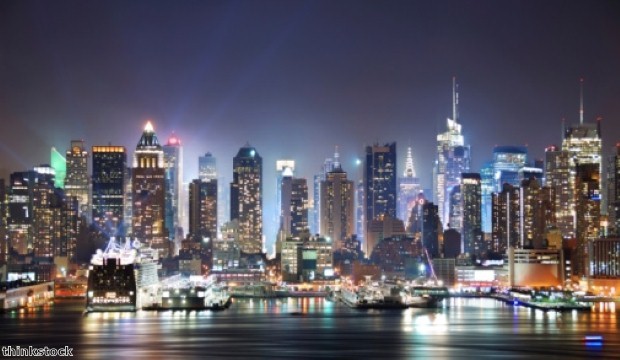 ---
Packing in as many New York attractions as you can in 48 hours is a challenging task, even for the most experienced and organised of tourists.
With a myriad of places to visit and enjoy, New York is undoubtedly one of the world's greatest cities. You may not be able to see everything that the Big Apple offers in a weekend, but aided by the fact that New York is a city that never sleeps – you can certainly have a good go at it!
When to go:
Anytime; New York is a great city to visit all throughout the year, but bear in mind that the city can be oppressively hot and humid in the summer and bitterly cold in the winter.
Travel:
If you are coming from Britain, get a direct flight to either JFK International Airport or Newark Airport which is in New Jersey but only 40 minutes or so from Manhattan by train or car.
The Empire State Building
What to see and do:
Day One:
Presuming you get an early morning flight, you will be in New York for lunchtime.  Where to start? Well, one thing you can do in advance and which will save you time and money, is to buy a New York CityPASS. This is a booklet of admission tickets to six of New York's must-see attractions for almost half-price.
Take your pick from the Empire State Building Observatory, American Museum of Natural History, The Metropolitan Museum of Art MoMA (The Museum of Modern Art), Top of the Rock or Guggenheim Museum, Statue of Liberty & Ellis Island (or Circle Line Cruises).
A trip up the Empire State Building falls into the must-do category and if you are lucky enough to be there on a clear day (and we were) you will be rewarded with a breath-taking view of the city with an audio tour to boot.  It's not for those who suffer from Vertigo but the panorama is simply amazing. You will be able to see all the way down to Ground Zero and as far as Central Park.
With time at a premium, making the use of the subway is imperative. Easy to use and cheap, you can get round Manhattan and beyond quickly and with minimum fuss.
Get over to the Guggenheim Museum, the internationally renowned art museum on 1071 Fifth Avenue (at 89th Street) or have a walk around the magnificent Grand Central Terminal – better known as Grand Central Station – which is at 89 East 42nd Street at Park Avenue and which is the largest train station in the world (by number of platforms).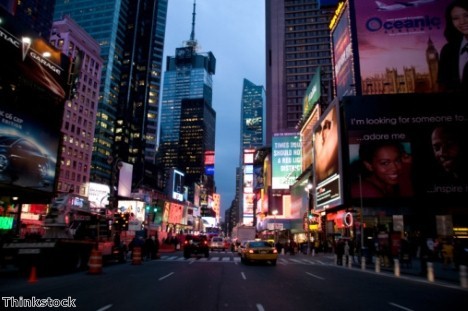 Times Square
An evening in New York has to include a trip to Times Square for a spot of people watching followed by a Broadway show. It is best to book your show before you travel as a time-saving device but the tickets will be more expensive.
You can wait in a (two-to-three-hour long) queue during the day at one of the booths in Times Square and get concession tickets but your preferred show may be sold-out. While the numerous neon lights fight for attention, just strolling around and enjoying the vibe in the 'The Great White Way' is fun in itself.
There are 13,000 restaurants in Manhattan, apparently, and many of them are in and around Times Square, which also has numerous bars including Jimmy's Corner, a blue-collar establishment on 44th Street between 6th and 7th Avenues. Former boxing trainer Jimmy Glenn's place is small and narrow but is a veritable shrine to the noble art with some great memorabilia on the walls. The beer is also cheaper than in most other places.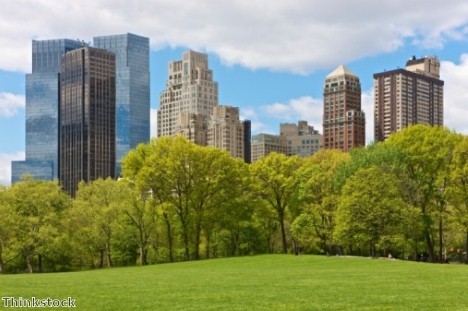 Central Park
Day Two:
Set the alarm for early o'clock and make your way to Central Park, a public park at the centre of Manhattan set on 843 acres of land. There, you can see everything from concerts and Shakespeare in the Park to carousel rides, boating, bird watching, cycling; far too many things to do in one day but if you do nothing else, make sure you visit Strawberry Fields, the part of the park which is dedicated as a memorial to the late Beatle, John Lennon.
Back on that subway again and speed down Manhattan to Battery Park, where you can get the ferry to the Statue of Liberty on Liberty Island and the Ellis Island Immigration Museum on Ellis Island.
The statue was a gift from the French government for the 100th anniversary of America's Independence and was the first thing many immigrants who arrived in the USA seen, before they were processed at Ellis Island.
Both places are worth a visit although if you arrive after 2pm, you will have to choose one.
Once those boxes are ticked, take the subway over to Brooklyn and the famous Grimaldi pizzeria, which sits under the bridge at 19 Old Fulton and which is something of an institution, having been there for over 100 years.
There may well be a queue outside –  I once stood in one at 1pm with temperatures touching 37°C – but it is well worth the wait to taste the brick oven-produced pizzas and imbue the sense of history.
Complete the evening and the trip with a leisurely walk back over the Brooklyn Bridge. The Manhattan skyline, especially at night, is a sight to behold. As you stroll along, you can start planning your next trip to the Big Apple, because New York is a city that you can never quite say goodbye to.
Where to stay:
There are numerous hotels of differing quality. We stayed at the Holiday Inn on Manhattan 6th Ave (125 West 26th Street). It is the location which makes this hotel ideal. Situated in mid-town New York means that Times Square and a host of other tourist attractions are all within walking distance.
Our room was small and basic room but the view of the Empire State Building was amazing. The desk staff were very friendly but the long wait on the elevators drives you crazy, the frustration not helped when you discover that the maids and cleaners continually tie them up.
We also had a night at Paramount Hotel Times Square New York (235 W 46th Street, between Broadway and 8th Avenue), which, as the address suggests, is at the heart of the city's entertainment area.
Again, the staff were friendly enough but of all the hotel rooms I have stayed in, my room at the Paramount was the smallest. On this occasion, so little time was spent in the hotel that it barely mattered.
By Ronnie Esplin
For more information on New York attractions visit www.nycgo.com.
For more on planning a trip to New York see City Guide.
Follow us @travelbite
---