Where to sample tapas in Barcelona
Saturday, 28 July 2012 12:39 PM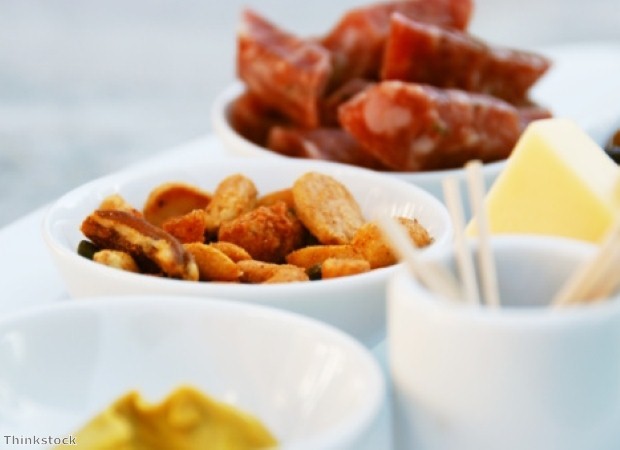 ---
You can't travel to Spain and not try tapas, so if you're planning to stay in one of Barcelona's hotels, don't miss out on the opportunity to feast on the delicacies. Whether enjoyed as a quick afternoon snack or for dinner, these dishes are delicious.
The great thing about tapas is that it is served in small quantities. You can just order one plate, or several if you want to experience as many of the different flavours as possible.
Read on to find out more about some of the best places to try it in Barcelona.
Quimet & Quimet
This place is famous for its mussels and cheese, so simply ordering a few dishes of each could be a great way to satisfy your taste buds. If you're here for lunch and after something simple but substantial, you could order a montadito. This is a mounted sandwich and you can try a selection as there are plenty to choose from.
While in the UK people typically head for a Spanish-themed restaurant in order to have tapas, in Spain itself the most common place for it to be served is the pub. This is so you can line your stomach with a delicious snack as you enjoy a drink or two. Quimet & Quimet satisfies on both scores, as it has shelves from the floor to the ceiling that are creaking with bottles of wine and spirits.
Set
This is one of the coolest eateries to be seen in in Barcelona and was only founded in 2004 within the stone walls of a 200-year old building. Today, there are two Set restaurants to choose from – Set de Born near Born Avenue and Set de Gotic in the famous Gothic Quarter.
There is a wide selection of tapas here and you'll find it all laid out in the counter so you can choose what looks tasty. Patatas bravas – a Spanish dish consisting of potatoes served in a spicy tomato sauce – is a particular speciality and you can also try the cheese tapas.
Bar Mut
If you want to spoil yourself, head for this establishment in the exclusive business area of Barcelona near Avenida Diagonal. This is where people come to enjoy top-notch food and wine after a hard day at the office, so is a great place if you want to mingle with the most successful residents of Barcelona.
Among the delicacies you can sample here are sea cucumbers and wild sea bass. If you have never tried seafood tapas before, you really must as it is a staple of the coastal towns and cities of Spain. Keep in mind that this is popular joint so it's worth booking your table well in advance of your visit.
La Cova Fumada
This is a down to earth and welcoming establishment that is family-run and serves good, wholesome food. It may be small but that just adds to the intimate atmosphere and you'll probably have to share a table even if you arrive early.
You simply must order the bombas, which consists of mashed potato dumplings filled with meat and covered in breadcrumbs. Another popular choice is chickpeas served with black pudding.
Bubo
After feasting yourself on savoury snacks, you may be in the mood for something sweet. If this is the case, make your way to Bubo.
This is a bar where you can enjoy traditional tapas and wine, but next door there is a cake shop run by the same firm where you can indulge your sweet tooth. There are big cakes, small cakes and everything in between, so be sure to stop by before your holiday comes to an end.