The Republic of Namibia is a country located on the western side of southern Africa.
It has one of the lowest population densities on the planet and boasts a wide range of dramatic natural landscapes, from vast deserts to soaring mountains and breathtaking beaches. Plus, its colonial past means that the few cities located here offer some fabulous architecture.
If you're you'd like to go on a Namibia safari, here at Africa Travel Resource, we can help you organise a fantastic, tailor-made trip that suits your every requirement.
Our friendly and experienced team of advisors have extensive knowledge about travel throughout Africa and we've hand-picked all of our transport, accommodation and tour providers, so you can rest assured that your journey will go smoothly.
Go on a Namibia safari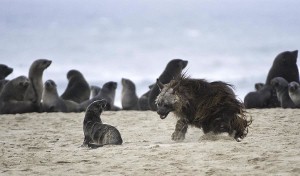 Most of Namibia is covered in desert – including the Namib and Kalahari. However, the dryness of these areas does not mean that the landscape is devoid of life. In fact, it's breathtakingly beautiful and there is plenty of both flora and fauna if you know where to find it.
Namibian coastal areas have some of the largest sand dunes in the world and the ocean currents often result in heavy morning fogs that can be spectacular to see. Sossusvlei is one place to go to really get to grips with the country's famous red sand dunes. You can go for an early morning drive here, as well as explore on foot.
In the south, the Diamond Coast is famous as an extremely rich source of the gemstones that it is named after. While the region is a national park, members of the public are generally prohibited from entering.
The Skeleton Coast can be found to the north and offers wide stretches of white sand beaches. The riverbeds in this area are home to various large game like giraffes, lions, rhinos and antelope.
Other places to go
If you're interested in other aspects of Namibia tourism, then a trip to the capital, Windhoek, could be a great choice.
With an estimated population of more than 300,000 people, Windhoek is also the largest city and is located in the centre of the country in the Khomas Highland plateau region.
Visitors will be intrigued by the juxtaposition of colonial and modern architecture, while there are three picturesque castles scattered around the area. Other notable buildings include Christ Church, St Mary's Cathedral and the Old Fortress.
Alternatively, Parliament Gardens and Zoo Park are two public gardens, which are carefully landscaped and perfect for a leisurely stroll.
Africa Travel Resource: helping you to plan your journey
To start planning your trip to Namibia, contact us today at 01306 880 770. An advisor will listen carefully to get an idea of what you want from your holiday. We will then create an itinerary for your approval and make travel arrangements – so all you have to worry about is what to pack!
We'll also be happy to provide advice about Namibia travel, such as visa requirements, money, safety and the best ways to get around.
In addition, we are proud to support many of the conservation programmes in Africa, so when you book your safari with us, you can feel good knowing that you're helping to protect the natural wonders for future generations.

---