UK bans Israel tourism ad
Wednesday, 15 July 2009 12:00 AM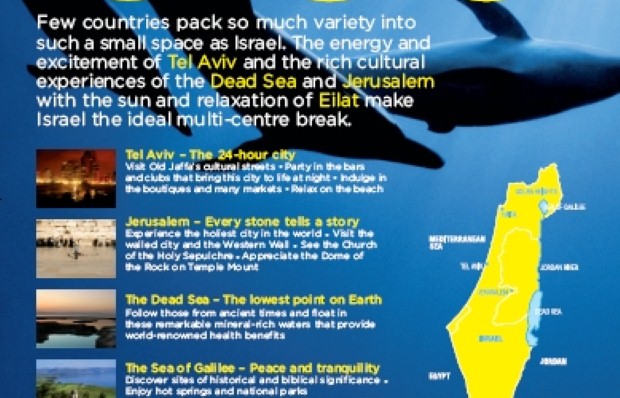 A tourism poster promoting Israel has been banned in the UK after controversy arose over its appearing to suggest the Gaza Strip was part of Israeli territory.
The UK Advertising Standards Authority (ASA) has ruled the poster must not be shown again in its current form and revealed today that it had received 444 complaints, including from the Palestine Solidarity Campaign and Jews for Justice for Palestine.
Transport for London received more than 600 complaints after the posters went up around the London Underground in May.
Maps are usually omitted from promotional tourism material in Israel over the disputed status of the West Bank, Golan Heights and Gaza Strip.
But all three were included in the offending advert, which complainants argued suggested the disputed areas were an integral part of Israeli territory.
Accompanying text for the advert read: "Few countries pack so much variety into such a small space as Israel. The energy and excitement of Tel Aviv and the rich cultural experiences of the Dead Sea and Jerusalem with the sun and relaxation of Eilat make Israel the ideal multi-centre break."
The ASA concluded that the "map featured in the ad was labelled 'Israel' and we considered that, along with [the above claim], implied that all of the areas featured on the map were part of the state of Israel".
"We understood that the borders and status of the occupied territories of the West Bank, the Gaza Strip and the Golan Heights were the subject of much international dispute, and because we considered that the ad implied that those territories were part of the state of Israel, we concluded that the ad was misleading," the ASA continued in a statement.
Israel's ministry of tourism argued the advert had not been intended to carry political messages and merely showed what areas could be reached from Israel, rather than being a political map.
travelbite.co.uk staff