Thinking about a holiday in Tanzania?
A holiday to Africa is an experience that you won't ever forget and here at Africa Travel Resource, we can help you organise a Tanzania safari that matches your every desire.
Tanzania is one of the most diverse locations in Africa. It is home to a vast range of ecological environments, plants and animals, not to mention some truly breathtaking scenery.
With so many options to choose from, planning a trip might seem like an overwhelming task. And that's why enlisting the help of Africa Travel Resource is a wise decision.
We have an extensive understanding about travelling in Africa and we've worked hard to create a network of the very best accommodation suppliers, transportation operators and events organisers, so you can be sure that your journey goes without a hitch.
Additionally, we're committed to the conservation efforts going on across the continent. So when you book a trip with us, you can feel good in knowing that you're helping to support such projects so that future generations can continue to experience the wonders of this amazing destination.
Go on safari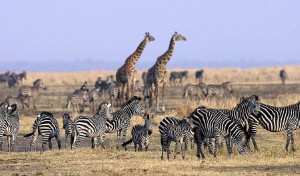 Whether you want to spot big game, go bird watching or even learn about unique plant life and ecology, then a safari in Tanzania will be the perfect holiday.
Located in the north of the country, the famous Serengeti region is home to the Great Migration – the biggest mammal migration in the world. This occurs around October and April, and includes nearly two million animals – like wildebeests, elephants, buffalo and gazelle – travelling a total of 800 kilometres.
Mount Kilimanjaro, the highest peak in Africa, can also be found in Tanzania. The mountain itself is home to many species of unique plant and animal life, and even if you are unable to climb all the way to the 5,895 metre-high summit, you'll still be able to appreciate the spectacular views from lower points on this inactive volcano.
Other things to see and do in Tanzania
Some of the oldest fossil remains of humans and human ancestors have been found in Tanzania, and these have helped to confirm that the country has been inhabited for more than two million years. Many were discovered in the Great Rift Valley, which zigzags through Tanzania, as well as other countries in Africa and the Sinai Peninsula.
With such a long past, Tanzania is an ideal destination for those interested in anthropology and history. And with a current population spanning more than 100 ethnic groups, travellers wanting to learn about different cultures will find plenty to keep them busy.
The National Museum in Dar es Salaam is a great place to get a general idea about the country and its history. Meanwhile, the Kaole ruins in Bagamoyo date back to the 13th century – there you can see the remains of a Muslim settlement, including two mosques and several tombs.
Start planning your trip with Africa Travel Resource
Here at Africa Travel Resource, we have more than ten years of experience in organising Tanzania safaris, as well as travel to other destinations like South Africa, Namibia, Kenya and Zambia.
To find out more, or to start planning your trip, get in touch by calling us on 01306 880 770. One of our safari experts will be happy to discuss your particular requirements and help you create an unforgettable holiday itinerary.

---