Commercial airlines have been making upgrades and improvements for quite a while to make flying first class more luxurious and extravagant than ever before. But, even with all the extras that you can enjoy on your first-class flight, there's no denying that chartering a private plane still remains one of the most convenient and luxurious methods of traveling by air, thanks to a range of great benefits that first class will simply never be able to achieve. The main difference between the two is that while flying commercially must be tailored to meet the needs of the airline, a private jet journey is all about the passenger and can be customized to meet their requirements at a much deeper level. And, whilst it's bound to be a luxurious experience, the benefits of flying privately cover so much more than comfier seats and more leg-room.
#1. Eat Whatever You Like:
Even in first-class, airline food is never going to be the greatest meal that you've ever tasted. Instead of choosing from a restricted menu of meals warmed up in the tiny aircraft 'kitchen', flying privately means that you have unlimited choice on the type of food that is provided for you, whether you're craving five-star cuisine with a glass of bubbly or can't wait to enjoy a curry from your favorite Thai take-out. The menu on board your private jet is completely up to you with Miami private jet hire, right down to the specific brands of hot and cold drinks that you prefer.
#2. Fly to and From a Closer Airport:
Flying with a commercial airline means that you'll be restricted to only choosing from main airports when you travel. On the other hand, a Miami private jet isn't restricted to landing only at Miami International Airport like the others. If you live close to a smaller airport or airfield, your jet will be able to pick you up from there instead, getting you in the air faster and cutting down the journey time to the airport. Similarly, when you arrive at your destination, a Miami private jet rental can land at smaller, non-commercial airports for a quieter and more relaxed experience that may be closer to where you are staying.
#3. Choose Your Aircraft:
Whilst flying first class means that you'll get an upgraded experience compared to anybody with a standard ticket, there's little that you can customize about the whole experience. On the other hand, chartering a private jet means you'll get to choose from a range of aircraft options, how you'd like the interior to look, and the seating capacity that you need. Flying private offers a range of aircraft sizes and interiors, allowing you to choose the option that suits your needs and requirements best.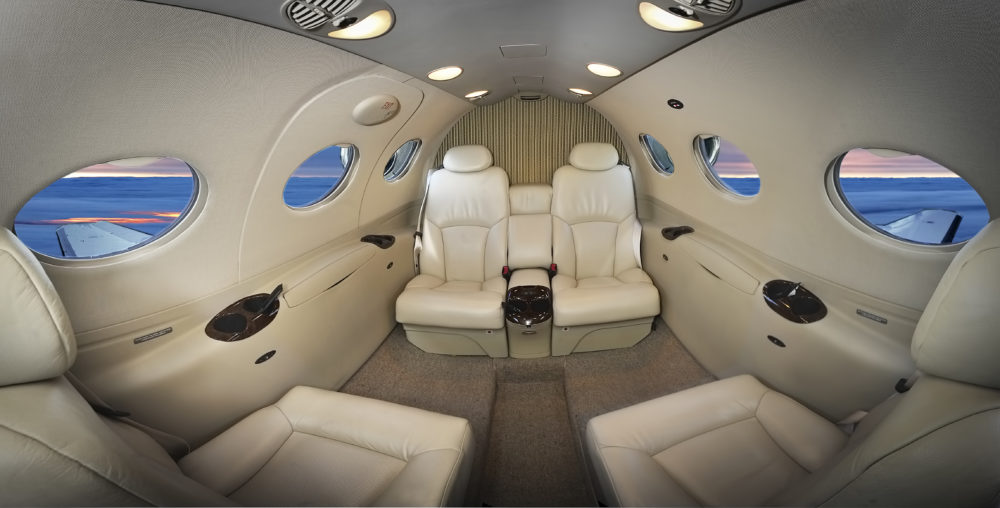 #4. Have the Entire Aircraft to Yourself:
Flying first class is nice, but there's still the chance that you might end up sat next to somebody who has terrible body odor or bad table manners, particularly if you're going to be flying solo. On the other hand, Miami jet charter means that you'll have the entire aircraft to yourself and any guests that you invite. This gives you the freedom and comfort to use the journey to work, hold a meeting, get together with friends or even spend some quality time together as a family.
#5. Leave on Your Terms:
Flying with a commercial airline means that you'll need to stick to a tight schedule of arrivals and departures that are put in place by the airline and airports. And, the tight schedule itself is often delayed by other variables – for example, late-arriving aircraft or issues with passengers. Flying privately with private jet charter means that you'll no longer need to worry about being delayed or held up – simply choose a time that suits you best and your aircraft will be ready and waiting for you.
#6. Take Your Pet Along:
We love our pets so much, so it's no surprise that most pet owners would rather take their furry friend along than leave them behind when they travel. However, whilst many accommodation options overseas will welcome pets, it's getting them to the final destination that causes the most problems. Many pet owners don't like the idea of sending their pet in cargo for a long flight, and that's even if they are allowed to come on the aircraft – some commercial airlines don't allow animals at all, whilst others charge hefty fees for the service. Flying privately means that your beloved pet can stay by your side the whole time and enjoy the luxury treatment too.
#7. Forget about Layovers:
There's nothing worse than wasting time hanging around in airports for your next flight. If you're flying to a long-distance destination, it can be difficult to find a direct flight, making layovers unavoidable. First-class lounges in airports are great, but there's only so much time you can spend in one before getting bored. And, in some cases, the price of a direct, first-class flight could be comparable to hiring a private jet! Flying privately means that you can forget about having to stick by the airlines schedule, allowing you to make direct journeys to destinations that would have required a change mid-way otherwise.
#8. Beat the Queues:
Even if you have a comfortable first-class seat waiting for you on the aircraft, there's still only one way to get there – by queueing up. Don't be fooled into thinking that purchasing a first-class ticket means that you get to avoid standing in line – whilst the lines may be shorter than that of standard class, you'll still have to wait around to get through security and at the gate to get onto the aircraft and into your seat. On the other hand, since you may be the only passenger on your private jet, there's no need to stand in line – you can hop straight on after a couple of simple ID and security checks.
#9. Perks and Facilities:
Lastly, the main reason why so many businesspeople prefer to charter a private jet over flying in first-class is thanks to the facilities available that allow them to get stuff done on the journey. Private jets are usually fitted out with a range of facilities that you can use to relax or get work done – whichever you choose! Ample charging sockets, desks, and in-flight telephones allow you to quickly and easily get on with any tasks that you need to complete, whilst reliable Wi-Fi makes it possible to attend or even hold webinars, have virtual meetings with your staff or colleagues, send documents, and host
teleconferences. When you want to relax, you'll find a top-notch in-flight entertainment system with movies, games and more.
#10. Security Freedom:
Anybody who's ever flown on a commercial airline will know just how tight security has to be. And, whilst we can all appreciate the need for heavy security at large airports, there's no denying that sometimes, it's not the most convenient. For example, if you're taking a short trip and don't want to put luggage in cargo, dealing with liquid restrictions in hand luggage can be tricky. When you fly privately, you can bring along almost anything that you like and whilst security checks are still essential to keep you safe, they're usually far more lenient.
First-class is a nice way to travel but fly privately for unbeatable levels of luxury, comfort, and privacy.