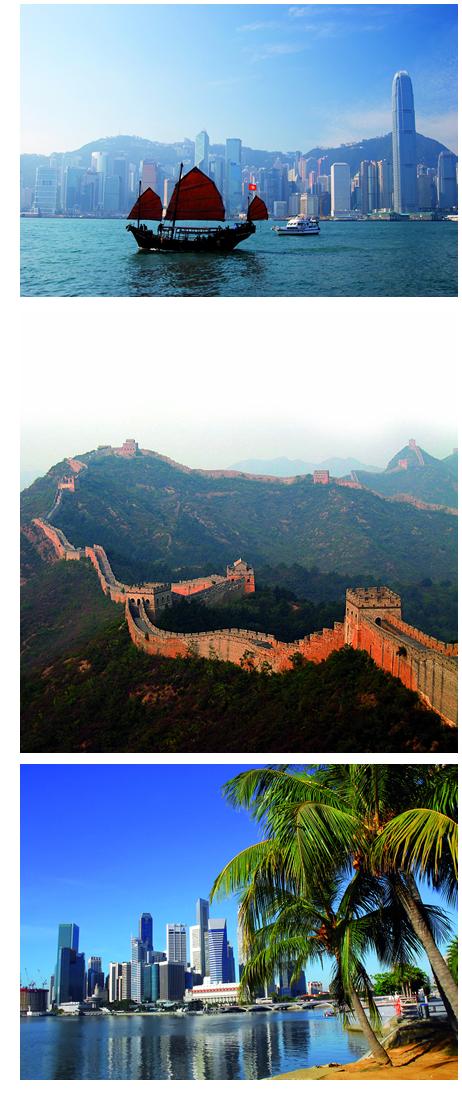 Typical Far East cruise itineraries start in Singapore, call at ports in Vietnam, visits Hong Kong, and continues to Shanghai and perhaps Beijing in China.
Some itineraries may include stops in Taiwan and Japan whilst others may start at Bangkok in Thailand.
Whichever itinerary is chosen a South East Asia cruise is an unbeatable experience and cruisers will enjoy the unique sights and sounds and see fascinating countryside, exotic cities, and amazing buildings.
Many travellers chose to package a Far East cruise with a land based stay in one of the many fascinating cities in this part of the world for an unforgettable holiday of a lifetime. Many of the leading cruise lines are positioning their fleet in the Far East with home ports of Singapore, Hong Kong and Beijing.
Various cruise lines now feature itineraries in the Far East as it grows in popularity as a cruising destination and the local ports become more adept at welcoming cruise tourists. Bangkok is known as the gateway to Thailand and is a perfect place to begin your Far East experience with great opportunities for shopping and an eye-popping nightlife.
Singapore, as an alternative start or end port of a cruise is a thriving city with an obvious British heritage, from the historic Raffles hotel to the Cricket Club on the central green.
The Boat Quay on the Singapore River is popular with tourists, locals and bankers from the nearby financial district enjoying the many bars and restaurants.
The centre of Singapore is easy to walk around, or use the clean and efficient underground trains which also go to the Cruise Terminal.
A few days' stay in Singapore before a cruise is a popular choice and well worthwhile to take in some of the local culture.
Vietnam is an unmissable country as part of Far East cruises, with its ancient culture surviving amongst modern influences.
Ho Chi Minh City (formerly Saigon) is a must see with beautiful pagodas contrasting with French colonial buildings, communist landmarks with thriving markets.
For many visitors, the most amazing sight in Vietnam is Halong Bay, home to thousands of limestone islands of all shapes and sizes and cruising into the bay is unforgettable as the ship threads between the islands.
From Saigon, cruises may call at Nha Trang, an international tourist resort in a beautiful bay setting, or the port of Da Nang for visits to Hoi An or Hue. Reached by a coast road alongside superb beaches, Hoi An is an ancient market and trading town on the Thu Bon river with fascinating old houses and streets, colourful temples, and a famous Japanese covered bridge built in 1593.
The northern section of a Far East cruise from Hong Kong continues to Shanghai and possibly Beijing in China.
Some cruises may call at Taiwan or Japan, perhaps South Korea. Hong Kong is an incredible city offering travellers a twenty-four hour a day rush of excitement and pleasure as one of the most amazing cities in the Far East.
If a cruise is chosen from Beijing, guests should stay in a hotel pre or post joining the ship as the cruise terminal in Tianjin is 85 miles away. This will give travellers the opportunity to experience the city which has been the cultural centre of China for over 800 years.
Noted for the walled Forbidden City with its grand palace of 9,999 rooms and the huge Tiananmen Square, scene of many historic events, Beijing offers a mix of old and new, and is the ideal place to experience genuine Chinese culture.
A visit to Beijing is not complete until you have taken time to see the Great Wall of China.
For some rest and relaxation a cruise can be packaged with a stay in the close by gorgeous Malaysian islands of Langkawi, truly one of the most beautiful places in the world.
---