Explore the amazing backwaters of Kerala on a houseboat tour
Thursday, 22 September 2011 12:40 PM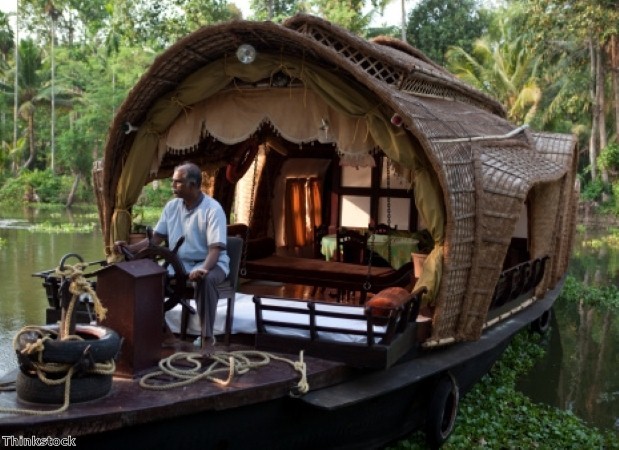 ---
Anyone booking package holidays to India would be missing out if they did not spend at least one afternoon exploring the breathtaking backwaters of Kerala by houseboat.
Situated in the south-west of India, Kerala is a popular tourist attraction for many travellers, with its backwaters being made up of a labyrinth of canals, rivers, lakes and inlets.
Kerala house boat tours are one of the best ways to navigate these stunning natural waterways, allowing you to enjoy the sights in a luxurious environment while benefiting from top-class service.
These vessels are made out of wood and natural materials, including bamboo poles, coconut fibre and ropes, with locals calling the ships Kettuvallams.
Built by binding planks of jackfruit wood together, most house boats are around 25 metres long and are unique in that no nails are used to hold the wooden slats together.
Screw pine grass named vembanad is often harnessed to create a vaulted roof for protection from the sun and other elements.
Traditionally, they were used for transporting food grains – primarily rice – to different parts of the state, but over the years they have been increasingly utilised to boost tourism in the region, with many being transformed into deluxe boats.
You should have access to a private balcony and a small sundeck, giving you a full panoramic view of the beautiful scenery, while some vessels will have air-conditioning to help you cope with the midday sun.
Kerala house boat tours are just a short journey away if you happen to be booked into cheap hotels in Goa, although each vessel is perfect for an overnight stay should you want to spend an entire day touring the backwaters.
Depending on the size of your party, you can select from one-bedroom or two-bedroom houseboats, all coming with bathroom, shower and toilet facilities.
The real treat of such a journey is the sightseeing opportunities open to travellers while they traverse this watery landscape. The backwaters are home to a number of aquatic species, including mudskippers, frogs and crabs, as well as water birds such as kingfishers, cormorants and darters.
If you are more interested in the plant life, there are palm trees, pandanus shrubs and a variety of other bushes and vegetation, providing a lush, green backdrop for your journey.
Not only will you get a chance to see the local flora and fauna up close, but you will also gain a deeper insight into the life of those who live in Kerala.
The Malayali, speakers of Malayalam – a southern Indian language primarily used in Kerala – depend on these backwaters to survive and so there are many settlements to see when you take house boat tours of the area.
A chaste rural lifestyle is depicted through rice paddies, mud houses with thatched roofs and fields of yams, bananas, coconut and cassava.
The crew of each house boat is exceptionally skilled at navigating the waterways of Kerala, with two oarsmen coordinating manoeuvres with deft efficiency.
In deeper waters, the vessels are often motorised, although in shallower depths the oarsmen use bamboo punting poles to steer the vehicle, allowing passengers to enjoy the peaceful landscape in silence.
Should you require anything, the crew are always on hand to provide you with food and drink, as well as information about the surrounding area.