Experience the excitement of sailing holidays in Turkey with Sunsail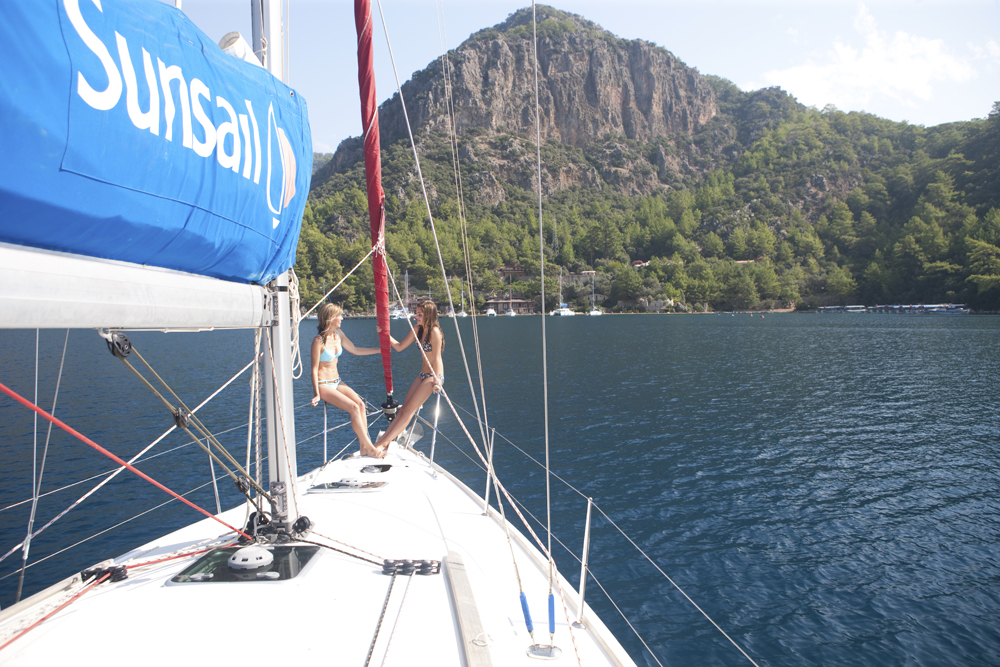 Turkey is an amazing country to explore, with its rich history and beautiful scenery, any break here is sure to be one to remember.
But if you are looking for a way to travel around and see the country from a different perspective, you should certainly consider taking a sailing holiday here.
The Turkish coastline is stunning and you're sure to fall for the charms of the many small fishing villages and ports dotted along its coastline.
Here at Sunsail, we can help you get to grips with some of the best sailing Turkey has to offer, giving you the opportunity to discover some stunning hidden sights as you relax on your yacht.
Where can I go sailing in Turkey?
Although you can sail along much of Turkey's coastline, here at Sunsail we offer you the choice between three bases – but that doesn't mean that you're just restricted to these areas. Gocek, Orhaniye and Turgutreis are the options when it comes to where to begin your sailing holiday in Turkey.
All these destinations promise excellent sailing conditions, whether you are an experienced hand or are still learning the ropes. As you sail along Turkey's coastline, you will find numerous secluded bays surrounded by tree-lined hills – the ideal place to drop anchor and head ashore for a picnic or an afternoon on the beach.
You will also have the opportunity to visit a number of historical sites, with many ruins of archaeological importance located along the coast.
If you are in the mood for a spot of sightseeing then you can pick the nearest port to moor up for a day and set out on foot to see the landmarks for yourself.
When it comes to relaxing breaks, there are few better ways to totally unwind than by taking a yacht charter holiday.
You will have the freedom to go where you want and by taking to the water, you can truly escape all the hustle and bustle back home.
But if you think that you may crave the excitement of a city, you should choose Tutregeis as your base.
Here you will find yourself within easy reach of Bodrum Town, which combines traditional Turkey with many modern amenities. If you are looking for a fun night out then this is the place to go, with its energetic nightlife making it popular with holidaymakers and locals alike.
All you have to do is sail a short way down the coast to find solitude and peace again when you tire of the city – and for a taste of real Turkish hospitality you should be sure to stop off in one of the many small villages where you can enjoy a traditional meal in a local restaurant.
Meanwhile, for dramatic scenery, a sailing holiday from Gocek is ideal – taking you along the Lycian coast with its mountains providing a beautiful backdrop.
You'll find many quiet beaches and coves here and the bays provide an excellent opportunity to go snorkelling and see some of the marine life that inhabits the waters.
Wherever you choose for your sailing holiday in Turkey, you're sure to find the mix of stunning scenery, Turkish hospitality and fascinating history makes for an unforgettable break.
Book sailing holidays in Turkey with Sunsail
If you are looking for the perfect sailing holiday in Turkey then Sunsail can help. With more than 30 years of experience when it comes to arranging yacht charters, we've got all the local knowledge you'll need to get underway.
Our friendly team will help you get to grips with your yacht, whether you've been sailing for years or are just starting out. You'll also find that all of our yachts are equipped with everything you need to enjoy your break, from bed linen and cooking gas to a dingy tender and snorkelling gear.
When it comes to booking a yacht charter in Turkey with Sunsail, it couldn't be easier. You just need to tell us your chosen destination, dates of your holiday and how many people are in your party and we'll find the right yacht to meet your requirements.
We can also help you arrange your flights – so you get the whole package without any of the stress.
If you have any questions about our sailing holidays in Turkey or want to book with us, then just contact our sales department on 0844 463 6817.
---