Discover hidden Asia on Bhutan tours
The Kingdom of Bhutan is a stunning land hidden away in the Himalayas that all too few people think to explore when it comes to travelling in southern Asia.
That is why when you book Bhutan tours, you can feel as though you are among the first outsiders to journey through this beautiful and exotic country, which is home to awe-inspiring scenery, deep-rooted traditions and an abundance of wildlife.
At Nepal Uncovered, you can include a visit to Bhutan in one of your tours through Nepal, allowing you to experience two countries in a single trip.
Your Bhutan holiday will be something you never forget, as the so-called Land of the Thunder Dragon is still relatively untouched by the tourism industry, so you can experience it the way it has been for centuries.
We can also tailor your tour for you so that it reflects your personal requirements. To find out just a few of the things you can see and do while you are here, read on.
Mountains, wildlife and spirituality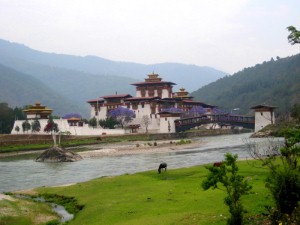 Nepal Uncovered can incorporate Bhutan trekking tours into your visit to Nepal – and there are few better places in the world to go walking.
The landlocked country is cut through by the eastern end of the Himalayas, where towering peaks are topped with snow and trees cling to the rocky surfaces.
However, it is also a land of contrasts and you will also be able to hike through subtropical wildernesses and vast expanses of forest while you are here.
Home to several nature reserves and wildlife parks, Bhutan is an amazing destination for animal-lovers. One of our most popular tours is Birds of Bhutan, where you can spot the black-necked crane, the rufous-necked hornbill and the plumbeous water-redstart.
Alternatively, you could explore the historic valleys of Paro and Punakha and the capital city of Thimphu in the valley formed by the Thimphu Chuu River.
You will be able to see temples, monasteries and Dzong architecture – a fortress-like building – connected to the Buddhist faith as you make your way through these areas and you are sure to gain a greater understanding of just how important the religion is to many of the people who live here.
Perhaps the best thing about this kind of tour is that you can combine it with a visit to Nepal and Tibet, two more fascinating Asian destinations that seldom get the acclaim they deserve.
Explore Bhutan with Nepal Uncovered
English is widely spoken in Bhutan and a unique government scheme that can see the cost of your holiday accommodation, meals, transport and tours included in a nightly fee – therefore meaning you require little cash on you day-to-day – could mean more people are encouraged to visit the kingdom.
As a result, we think you should book your trip now and feel as though you are one of the first tourists to discover this beautiful country – and so you can journey through without encountering hoards of travellers.
Nepal Uncovered can help you plan the Asian getaway of your dreams, whether you are a thrillseeker or after a cultured getaway filled with sightseeing.
As a trading name of Uncover The World Limited, we offer tours that are covered by liability insurance and the Travel Trust Association so you can be sure your trip is protected.
Why not start planning your break by calling 0845 130 48 49 today?

---