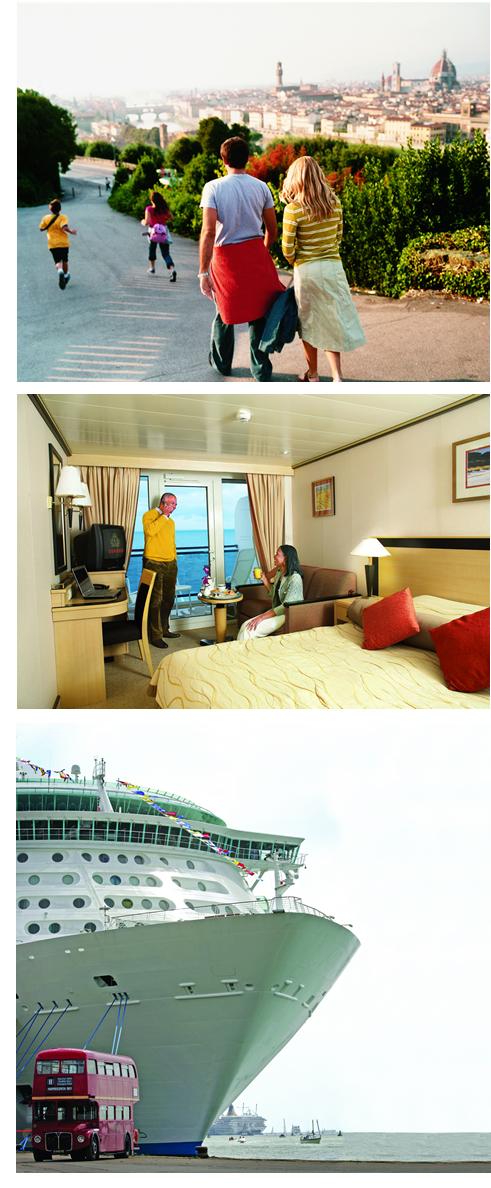 It can be exceptionally confusing to find the best deal when looking at cheap cruises as there are so many channels to book cruises, all promising different deals, added value benefits and promotional fares.
Hunting for a cruise holiday can be undertaken through online sources, travel agents, cruise specialists or direct with the individual cruise line and as they all seem to promise the best bargains, it is hard to ensure that the lowest price available has been obtained.
Cruise holidays continue to grow in popularity amongst Britons as a great way to see multiple countries with top class service at an affordable price. On a cruise, guests have the chance to explore beautiful locations that are not commonly found whilst on other tour packages, for example, docking at exotic ports in South America or historical places in Europe to see charming spots that are not often visited by tourists.
Cheap cruise deals are everywhere and when looking for cost-effective cruise packages, start by checking out the many websites that sell cheap cruises to get an initial idea of prices. Take note of what is included, dates, cabin type and location and any amendment or cancellation penalties as price comparisons are only valid if looking at an absolutely identical holiday.
Investigate any added value benefits which are important to you such as free shore excursions or onboard credit which make a difference to the overall value of the holiday. Although it may seem logical that the cheapest cruises are those booked directly with the cruise line, this is rarely the case.
The majority of cruise lines rely on their travel agent and cruise specialist channels to sell over 90 percent of their holidays and therefore most refuse to price match or undersell their travel partners. They can also only advise on their particular cruise line whereas specialists who sell multiple cruise lines can offer a whole range of deals from different companies and will be aware of which cruise companies have the best deals of the time, as well as being the most suitable to match their customers' requirements.
There are websites where you can book your cruise online, sometimes for an additional discount, but this is only recommended for experienced cruisers as it can be relatively complex to package up the various components of a cruise holiday.
In addition, travel agents and cruise specialists will be keen to secure bookings and will potentially use some of the commission they receive from the cruise line to lower the price.
They will also have access to the most cost-effective flights and hotel stays and will often include some added extras to make their cruise holiday the most attractive available. Any additional bonuses offered by the cruise lines will be passed onto their customers as well, making their cheap cruises the best option by far. There are a number of tips to securing a cheap cruise deal.
For many cruisers, very little time is actually spent in a stateroom and if travellers don't mind not having a window or balcony they can take advantage of cheap prices available by staying in an interior cabin. It will generally offer all of the same facilities as a cabin with a window but at a lower price.
When looking for cheap cruises, look for ships that still have empty or unoccupied cabins – an experienced cruise specialist agent will be able to advise where the best deals can be found.
Generally, booking further in advance is cheaper as cruise lines are keen to secure as many bookings as possible as early as possible. They will introduce early booking discounts and if they ever drop the price below these it is more likely to be through more 'hidden' channels and rarely on the open market.
As the departure date gets closer they will closely monitor how many staterooms are still empty and will look at various ways to fill them whilst protecting the revenue they have already secured. For example, they might chose to upgrade all passengers in window cabins to balconies and then sell the window cabins at a cheaper price. They may also offer cheap cruise deals to certain groups of people such as senior citizens or rates to staff who work in the military, again to guard the prices in the open market.
Cheap cruises are sometimes available last minute though, so signing up for newsletters and reading the classified sections of the weekend newspapers is always a good idea.
Choose a cruise itinerary which is out of season and take a chance with the weather, avoid peak season travelling times such as July, August, Easter and Christmas and investigate packaging your own holiday.
It may be that members of an airline's loyalty club have enough free miles for a flight, can find a cheap hotel and transfers to and from the airport and ship at a lower price so that even when adding the cruise element of the holiday, the total cost is cheaper than a total package purchased through any of the channels available.
---