Be a community volunteer with i-to-i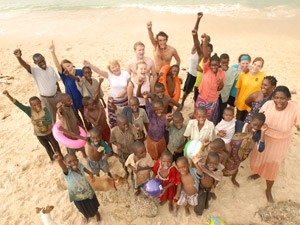 When you select the destination you want to travel to, it is likely that a major part of your decision was influenced by the communities you could meet on your excursion. But to really immerse yourself in local life, why not volunteer abroad?
At i-to-i, you can really get under the skin of the places you visit, by lending your time to some of the people who live there. This is sure to make your trip overseas all the more memorable and will really allow you to give something back to the communities that have given you such a warm welcome.
Whether you want to work with children, on building projects, with animals or on programs that help preserve the natural habitat, you will find one of our packages that appeals to you. To learn more about becoming a volunteer while overseas, read on.
All about community volunteering
Becoming a community volunteer really allows you to get under the skin of the places you visit and experience things well off the popular tourist trails. This gives you a once-in-a-lifetime opportunity to mingle with the local people and get to know a little more about their customs.
Perhaps more importantly, you will be able to give something back when you work on a project like this, often in countries where a large proportion of the population is desperately in need.
For example, you could dedicate a few days or weeks towards renovating the favelas of Rio de Janeiro in Brazil, or teaching disadvantaged kids to surf in South Africa. Other possibilities include helping out on theatre workshops for children in Jaipur, India, or lending a hand at a village school in Laos.
One of the most worthwhile opportunities on offer awaits you in the hill country of Sri Lanka.
This tear-drop shaped island is strikingly beautiful, but you can make a real difference to the lives of kids here, by helping out with their homework or teaching them English.
Alternatively, you could head to the gorgeous destination of Bali, where – in addition to visiting ancient temples – you will be able to volunteer your time assisting orphans and young people living with disabilities, along with mingling with the fantastic locals and learning their way of life.
Or why not volunteer your time to a project in the Thai village of Mae Sai? As with any community work in Thailand you do, you will be able to spend some time exploring this beautiful and fascinating spot and the country it is in.

Why i-to-i is passionate about community volunteering
We at i-to-i are firm believers that you should give something back to the countries you visit and community volunteering is a great way to do so.
Not only do you get to mingle with the locals and enjoy unique encounters, but you will also meet like-minded volunteers who could become lifelong friends. All this and you will be staying in some of the most awe-inspiring places on earth, which you will have plenty of time to explore when you are free.
If you want to travel in a way you will never forget, i-to-i is sure to have the package you are looking for. And as we are protected by ABTA and a member of the Year Out Group and the Foreign & Commonwealth Office's Know Before You Go scheme, you can be sure you're in safe hands.
Visit our website or call us today on 0113 205 4620.

---