Hot spot: B&B S'Ammentu in Bosa, Sardinia
Tuesday, 16 April 2013 10:28 AM
Esme Fox explores the picturesque town of Bosa in Sardinia and stays at the charming B&B S'Ammentu.
As the mist cleared and the rain began to cease, the small colourful town of Bosa appeared in the valley below, shining like a rainbow in the sun. As I got nearer I could clearly make out the old hump bridge crossing the Temo River and the palm trees lining the old cobbled streets. This, I had been told, was one place in Sardinia I should not miss and, at a first glance, I knew I would like it here.
My accommodation for the next two nights was the charming six-room B&B S'Ammentu, the best signposted B&B in town, and a good thing too, it being tucked deep within the rabbit-warren like streets of this medieval town. But S'Ammentu's location only added to its charm, housed in a traditional tall and narrow house, featuring wooden beamed ceilings, original brick walls and steep stone staircases.
If Monica, from that famous American sitcom Friends, were to own a B&B, then S'Ammentu would be it – everything perfectly positioned and clean to the point of obsession. Flowers were placed on every spare surface and corners of the staircases, and pictures and ceramic art adorned the walls – nothing looked out of place.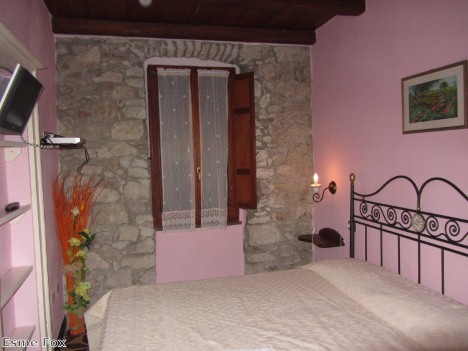 I was told by own local writer that S'Ammentu was one of the trendiest places in town and while marketing itself as a B&B, here you can really enjoy a hotel experience with SKY TV and even mini bottles of shampoos and shower gels, the only things missing was a tea and coffee machine and WiFi, but then again if you wanted the old 'step back in time' Bosa experience then you don't really need it.
After travelling up the rather dubious lift, where you had to hold the button in for it to move (needless to say I opted to take the stairs for the rest of the time), I arrived on the fourth floor and my quaint room, featuring an old wrought iron bed, large wooden wardrobe and cute Italian style shutters. Original local art hung upon the walls and there was also a modest sized en suite bathroom and an air-conditioning unit, which could blow hot or cold air depending on the time of year.
The next morning, following a typical Italian breakfast of espressos, pastries and cereal, a few doors down at S'Ammentu's perfectly matching cantina, I made my way through cobbled alleyways of orange, yellow, pink and even purple houses, to Bosa's foreboding-looking castle, standing protectively over the town. Surrounded by cacti, lemon orchards and tangles of yellow flowers, the castle looks as if it has stepped out the pages of a fairytale.
Only the castle's elephant tower, battlements and old chapel have survived, but these are fully intact and for a few euro it is possible to walk around the battlements, visit the ancient frescos and paintings in the chapel and climb the tower. Climbing up the steep ladder-like steps to the top of the elephant tower provided one of the best views over the town, the river and the sea beyond, glinting in the beams of sunlight penetrating the black clouds above.
The following day it was pouring with rain again, Bosa's primitive looking streets ran like mini streams down to the river below and the streets were empty. Avoiding the rain, I decided to check out one of the town's two museums – Museo Civico Casa Deriu and the opposite exhibition of artwork by Antonio Atza. These were surprisingly better than I'd expected and split into three levels.
The first showcased Sardinian lace and crochet; the second a complete 19th century bourgeois apartment with elegant fittings and fixtures, and even original wallpaper; and the third, work by the well-known Sardinian painter and ceramic artist, Melkiorre Melis.
After a few breaks to refuel on espressos (a must anywhere in Italy), I headed out again to brave the downpour again (unlike the locals who stayed safely tucked up inside). Even in the rain though, it was hard not to be enchanted by Bosa, stepping back in time, I trundled through its steep laneways imagining donkeys carts and old ladies carrying boxes of lemons up the hill.
Restaurant options are limited in Bosa and everything seems to close very early (unlike in mainland Italy and Spain), so don't leave it too late to eat. You'll find a few good places though, which should be visited, even only if to try the local tipple – Malviasa – a sweet dessert wine which can only be produced within the Bosa region. The same may not be said for the traditional dessert – Seadas – which have an acquired taste, deep fried cheese pasties smothered in lemon and honey. S'Ammentu does have its own kitchen though, however you'll need to plan ahead and ask in advance if you want to cook here or even make yourself a hot drink as no cups or plates are stored in the kitchen itself.
Despite the days of rain and cold, Bosa had captivated me and I could see it would soon be gracing the pages of upmarket travel magazines. Whilst it hasn't been overrun by tourists yet, you'd better get here quick as it soon will be.
By Esme Fox
Rooms at B&B S'Ammentu start from 30 euro per night inclusive of breakfast. Visit the website for more information.
Follow us @travelbite