A weekend in…Kuala Lumpur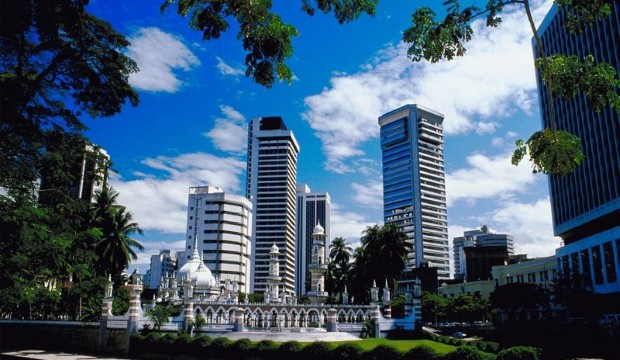 ---
Malaysia's capital city Kuala Lumpur – dubbed 'KL' – is a bustling, vibrant metropolis where historic temples sit side by side with towering skyscrapers.
Getting there:
You can take the Transit from KLIA or its nearby Air Asia terminal (the LCCT) – this brings you into KL Sentral where you can take the Sky Train to all of KL's main attractions. Note that at the LCCT, part of the journey is done by shuttle bus.
You can also take the coach from both (and a short coach ride also joins KLIA with the LCCT for Air Asia transfers). It takes about an hour from KLIA, and a further 20 minutes from the LCCT to reach KL. Taxis are also available, but the traffic in KL can be quite heavy. It is probably too hot to walk long distances, so once in town, the sky train is your best bet (and least expensive way to go).
See the sights:
The choice for something to do is incredible in KL. Around Bukit Bintang alone you'll find six huge shopping malls: Lot 10, Farenheit, BB Plaza, Sungei Wang Plaza, Plaza Low Yat – for all your electronic toys – and Berjaya Times Square.
Berjaya Times Square is, however, a mall with a difference. Floors five and seven host an indoor amusement park, complete with a rollercoaster, dodgems and other funfair rides. You pay once and are given a wristband, meaning you can then come and go as you please.
There is also a Cineplex, bowling alley and even an archery range; for the equivalent of £10 each we played two games of bowling and were given 36 archery arrows (plus a mini coaching session).
Malls open until 10pm in KL, which is great for being able to explore the shops at a leisurely pace; the city is absolutely throbbing at night with massage parlours (mainly of the feet and shoulders variety) and hawker stalls.
Shopping is probably the main pastime in KL, but the capital is not short of its history, arts and culture.
Head a little out of town to the Shar Alam Mosque boasting a Guinness World Record for the tallest minaret (ladies, please dress respectfully – gowns and scarves are also provided); or have a look at KL's 'Silicone Valley' and administrative headquarters – Cyberjaya and Putrajaya. The Taman Negara National Park is also a lovely way to spend the day out with the family. Alternatively take the Sky Train to Bangsar (1U, The Curve) where there is another newer mall.
Kuala Lumpur is also home to the Sepang International Formula One Circuit. Shaped similarly to a traditional Malay kite, the circuit marked Malaysia's entry into the world of race-car driving long before other countries, such as Abu Dhabi and China.
Cuisine:
Drawing its influence from the many cultures settled in Malaysia, KL cuisine is varied and exciting.
Around the Petronas you can enjoy fine dining for breakfast, lunch or dinner in 'Top Hat' voted a winner in Malaysia's Best Restaurants for five consecutive years; or sample one of the Eurasian Fusion buffets offered at most of the luxury hotels in the city.
However, for the real Malaysia experience, head to the hawker stalls in Bukit Bintang – they are cheap (very cheap), cheerful, and exceptionally tasty. With every type of food cooked fresh in front of you, Bukit Bintang is like a 24-hour street party. The best hawker street we found in the area is 'Jalan Alor', with food of all varieties from Malaysian favourites such as Nasi Lemak (curry and rice on a banana leaf), Laksa (even hotter curry), Kuey Teow (flat noodles) to every kind of fish imaginable, presented in every way! The hawkers entice you with their menus and even if their stall doesn't have what you want – they always know one that does and will order in. Food costs so little (in comparison to pounds sterling) and is cooked fresh to order.
The BB Plaza nearby also offers the more conventional steakhouses and cocktail bars, and in the area there are Starbucks galore and the usual fast-food outlets. Around Petaling Street you can dive into any of the hotels flanking the market for a cool beer or freshly squeezed juice, but I would stick with the hawkers for the best value for money and probably the tastiest fare. But this is Malaysia – you'll find something to eat absolutely anywhere…anytime!
By Audrey Tang
---