Unless you have been living under a rock, you will most likely have heard of many of your family and friends visiting the stunning Greek island of Mykonos. We would not blame you if you feel like you are missing out and have put this destination at the top of your travel bucket list. While this island is absolutely beautiful to visit over the summer months, this is the peak season and it can be very crowded and busy. While we are sure you will still have an amazing time, there is a lot of advantages to instead visiting during the off season which runs from the beginning of May to late September and into October. During the off season, you can watch the amazing transformation that Mykonos undergoes from being a lively party place to a sleepy and calm destination. If you are struggling to decide whether or not you should stay in Mykonos during the off season, you have come to the right place as we are taking you through the top reasons as to why this is the perfect time to go.
Wander the Quiet Streets of Mykonos
What's really cool about the town of Mykonos is that it is an endless maze that you can spend all day wandering through. There are gorgeous narrow paths filled with architecture that you will be mesmerised by and you will fully be able to appreciate without being moved along or interrupted by large crowds that are present during the high season. Enjoy strolling along and taking in all of the lovely sights that it has to offer, plus you can take some great pictures as there are so many postcard ready photo opportunities to enjoy and not a queue in sight!
Get A Great Beach Spot
The beaches in Mykonos are known all around the world and this is one of the highlights of visiting the island. However, they can become extremely busy over the summer months and this can make it quite difficult to bag yourself a beach chair. This is why we would definitely recommend visiting these beaches during the off season as the beaches are far more relaxed and you will easily be able to grab a seat and enjoy the more peaceful beaches. While you may be worried about the temperature being too low, we promise this is something you won't have to worry about as the beaches still get very hot in the Greek sun, meaning there is plenty of opportunity to top up your tan. There are lots of amazing beaches for you to visit in Mykonos including Psarrou, Ornos Beach and Paradise Beach.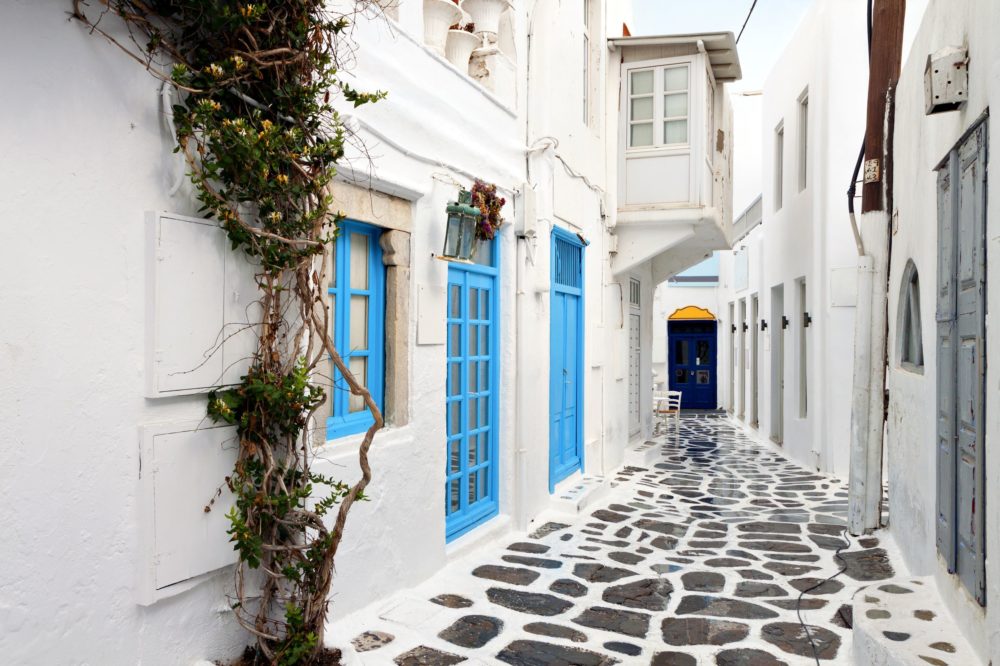 Get the Accommodation You Want
During the high season it can be difficult to get exactly the right accommodation that you want due to how busy the island becomes, however, during the off season this is not as big of an issue! The Mykonos villas rent market can be extremely busy, but during the off season you should be able to rent the villa of your choosing. Look forward to panoramic views, lots of privacy and amazing pools in your villa. If you are looking for the ultimate villa during the off season you can browse Mykonos villas to rent on this site. What's also great about going during the off season is that you will be able to book a villa much cheaper than what you normally would during the high season, so you can get lots more for your money!
Get A Front Row Seat to Watch the Famous Sunset
The sunset in Mykonos is extremely famous, but understandably during the busy summer months it can be hard to get a good view. This is why visiting during the off season is great as you can visit the amazing 180 Sunset Bar which gives you panoramic views over the whole town of Mykonos and the ocean too! Watch the sunset coming down while amazing DJs hit the deck playing outstanding music without the hustle and bustle of trying to move around to get a good spot or having to shimmy your way through crowds of people to reach the bar.
You Can Meet the Locals
One of the best parts about the low season that you may not have considered is that it is easier to meet lots of the local people. During the peak season, businesses are much busier and have less time to converse with their customers, plus you are always surrounded by tourists. When Mykonos is quieter, you can connect with local business owners and interact with them during your stay, making your trip all the more special.