Take part in sports coaching programmes abroad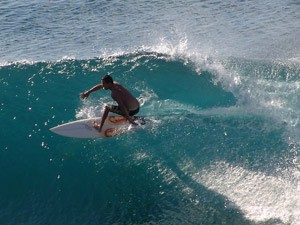 People who have a passion for playing sports as well as travelling can combine their two loves by getting involved in sports coaching abroad.
Taking part in voluntary projects across the world gives you the chance to participate in a range of different activities, whether you'd like to teach English, get involved in conservation work or build homes for communities.
You can also help by teaching kids how to improve their athletic skills by coaching them in various sports.
This provides them with valuable skills and gives children a sense of fun, ambition, competitiveness and lets them learn how to work as a team.
And it also means you can play football or surf while enjoying a trip of a lifetime!
All about sports coaching abroad with i-to-i
There are many options available to those who wish to volunteer abroad by helping youngsters learn how to play their favourite sports.
Choose from a wide selection of trips at i-to-i that enable you to get active on your travelling adventures in countries around the world.
If you fancy yourself as the next football star you may want to take part in soccer coaching programmes in Argentina for between two and 12 weeks. Or, if you're a pro at martial arts then you can work with disadvantaged children in Brazil's Rio by teaching them the art of capoeira.
For those that are keen on surfing there are opportunities for you to develop water sports skills in beautiful nations, where you can make the most of azure waters and tropical shores.
Or, if you want to learn to surf abroad yourself, then why not embark on a surfing course in Costa Rica, Bali or Rio?
You can combine your interest in developing this new sporting ability with other voluntary projects, such as saving turtles, taking part in conservation work or teaching children, for a rewarding experience, as well as a fun one.
Take a look at sports coaching programmes
Whether you'd prefer to pass on your talents in a sport you feel you're pretty good at, or want to learn how to perfect skills in a new activity, you're sure to find a sports programme with i-to-i.
Projects range from between one to 12 weeks, giving you the chance to choose whether you wish to dip your toes in coaching kids in multiple destinations abroad or want to stay in one country for a length of time to see the youngsters develop their skills.
Join the thousands of people who have taken part in volunteer programmes with i-to-i since 1994.
You can seek advice from one of our specialised travel experts who all have experience in volunteering in a foreign country or backpacking around the world, so can help you with any assistance you might need.
All our international projects are ATOL-protected, which means you can have peace of mind that things will run smoothly during your trip and as a member of ABTA – The Travel Association, you can have confidence booking your holiday with i-to-i.
So, if you're over the age of 18 and feel as though you could help children in disadvantaged countries with your sports abilities, why not take a look at our coaching opportunities today?
You can check out the website and request a brochure or call one of our experts on 0113 205 4620.

---