Simon Reeve is back with new BBC series Indian Ocean
Thursday, 12 April 2012 8:33 AM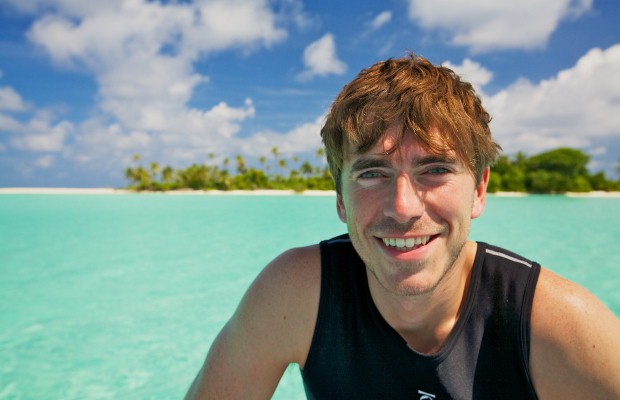 Dining in an underwater restaurant, evading pirates, diving with sharks and eating a plate of curried fruit bat on a beach in the Seychelles; travel adventurer Simon Reeve is back, and this time he's exploring the Indian Ocean.
The Indian Ocean with Simon Reeve begins on April 22nd on BBC2. During the programme, Reeve will visit a whopping 16 countries, beginning in South Africa before heading up the east coast of Africa, around India and back down the western coast of Indonesia to South West Australia.
The epic journey will take viewers from some of the most dangerous places in the planet, like the frontline conflict in Mogadishu in Somalia, and to some of the most beautiful – including the stunning Maldives, Mauritius and the Seychelles Islands.
At more than 6,000 miles wide, the Indian Ocean is the third largest on the planet. Vast quantities of oil and half of all global container traffic passes through it, making it strategically vital for the major world powers.
This is a time when our seas face extraordinary environmental threats and challenges, so the programme hopes to blend history with adventure, current affairs, culture, wildlife and conservation.
Simon Reeve commented: "Travelling around the Indian Ocean was an extreme and extraordinary adventure that took me from the horrors of Mogadishu to the beauty of the Maldives. I went to some of the most incredible places on the planet and got my feet onto picture-postcard beaches I previously only imagined in my dreams.
"But the journey wasn't just about sunny beaches. I'm really keen for viewers to understand more about the lives of people who live around the Indian Ocean, so the team and I delved into stories of poverty, conflict, drugs, smuggling, and piracy. We filmed amazing sights and dark issues, along with wildlife, history, current affairs and culture.
"It was fascinating to explore this incredible region, on a journey that showed me there's so much more to the Indian Ocean than just gorgeous holiday islands. The Indian Ocean is a vast, stunning and tantalising area of our world."
Reeve is an adventurer and bestselling author who has previously travelled around the Equator, Tropic of Cancer and the Tropic of Capricorn for the BBC.
Follow us @Travelbite