Secret London blog: London street food
Thursday, 25 October 2012 10:09 AM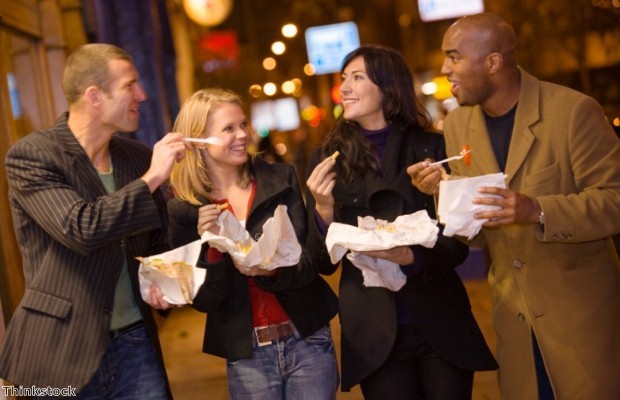 Street food has exploded onto the Capital's food scene in recent years.
It's no longer about greasy burgers and hot dogs; instead it's all about offering fresh, tasty and locally-sourced food to the public at a reasonable price.
The food trucks, selling anything from southern soul food to old British favorites, can be found in the City, the West End, or outside one of the many outlying commuter stations. Many change their location on a daily basis; sometimes the only way to keep up with the best of them is on Twitter.
Here are some of the best street food stalls in London:
Anna Maes
Anna Maes serves up southern soul food at Eat Street, Kings Cross Station. Try out the Notorious P.I.G sandwich (Anna's name for a pulled pork sandwich). The pork is smoked for 12 hours and then doused in their signature barbeque sauce, topped with pickled red onions and served with a cup of 'slaw. Messy but yum. Follow @Anna_Maes
The Pudding Stop
This food truck sells old favorite British desserts – the kind of desserts you would have had in school, but infinitely more delicious. Their menu consists of egg custard tarts, steamed treacle sponge, and bread and butter pudding. You can find the Pudding Stop at St Alban's station, hawking their yummy puddings to commuters returning from London. They have also been nominated for the BBC Farming and Food Awards for best street food or takeaway. Follow @thepuddingstop
Moroccan Soup Stall
The Moroccan Soup Stall on Golborne Road in West London sells affordable Moroccan soup and traditional tagines. The chef, Mohammed, cooks up a storm in front of you as you sit on stool sipping mint tea.
Bhangra Burger
The Indian take on a burger – Bhangra Burger – takes the spices and herbs of a curry and infuses them into its locally-sourced meat. You can choose from the Balti Burger and Crazy Lamb Jalfrezi, amongst others. Don't expect any fries or milkshakes with these babies – sides include sweet onion samosas and spicy sweet potato pakora balls, and there is homemade fiery ginger beer and Indian Chai to wash it down with. Follow @BhangraBurger
Big Apple Hot Dogs
Hot dogs have long been associated with street food – but the Big Apple Hot Dogs are not quite like your average weiner. Big Apple Dogs are hand-made in London, using only natural casings and quality ingredients, and are 94-98 per cent meat (it's gluten-free too). You will find their truck at 239 Old Street. Follow @BigAppleHotDogs
By Cat Hughes