Paprika and Palinka in Hungary
Thursday, 30 July 2009 12:00 AM
Sometimes, you don't even know a certain country's cuisine exists until you visit the place. Travelbite.co.uk's Matthew Gardner finds out why Hungarian food and drink should be at the top of any true foodie's list of holiday destinations.
You have to look at where Hungary is on the map to put it all in context. Sandwiched between Austria, Slovakia, Ukraine, Romania, Serbia, Croatia and Slovenia, it's almost as if it's trying to hide this asset and keep its cuisine all to itself.
If not, the central European state is out to prove a point without making a scene. Hungarian food is one of the greatest (and least considered) reasons why a family holiday or city break in Hungary should be near the top of your list of places to visit.
However, a word of warning: you know that when you sit at a dining table in Hungary and there are toothpicks everywhere to be found, the nation is not going to be particularly vegetarian-friendly.
When eating in a large group, the traditional cuisine of meat and vegetables is regularly presented as a beautiful, shimmering, heart attack-inducing mountain.
Despite your better judgement and with carnivorous tendencies notwithstanding, you'll find a predominance of duck, pork, veal, beef, liver and kidneys, usually served on top of a bed of potatoes – mashed or roasted – as well as carrots, root vegetables and cauliflower. To add to the calorific wonders in front of you, the latter is usually battered or in breadcrumbs.
Eaten traditionally with bread, a side plate of fresh vegetables and the ever-present offer of pickles such as gherkins, there's a cavalcade of mixed tastes to be sampled.
Sometimes, just to really ramp up the calories, entire chunks of fat will also be in the mix – a treat that is absolutely divine, offering a salty butter-like quality with every tiny bite, following an internal argument with your conscience.
Fat seems to be a major desire of the typical Hungarian. Kebabs in the country's grills often include blocks of the substance in similar quantities to their meaty chums. However, with the pork being so lean, it's almost as if it's trying to restore the same qualities found in hunks of flesh found elsewhere on the continent. Besides, you can always leave it behind – not that you will.
Of course, no Hungarian meal is complete without a starter – or accompaniment – of goulash. Developed by herdsmen sweeping across the plains, this stew is usually made up of beef with a large amount of paprika, the spice of choice in the country. Add to this a few vegetables then stick it in a huge cauldron and reduce to your heart's content.
This can give the dish a remarkable amount of flexibility – you could have it as a starter soup or a thicker meal served with pasta as a main course, with all kinds of additions to suit the personal taste of the audience. Although many ethical people may disagree, veal is the meat of choice: understandably so, when you taste it.
Other little treats include bread-based snacks usually served as starters, with cottage cheese and sour cream being particular favourite toppings in Hungary. Sometimes – if you're lucky – there will even be a sprinkling of the aforementioned fat. It's absolutely mind-blowing, if not a little messy.
With the regular savoury dishes covered, those with a sweet tooth need to be catered for. Despite its anchoring to Austria as the dish of choice, strudel is actually a Hungarian dish and one which, naturally, the nation excels at.
And with that trademark flexibility, strudel isn't limited to desserts only. In fact, one unforgettable experience is a visit to the Strudel House in Budapest – the spiritual home of the dish. Here you'll try every course with the thin cover of pastry. Fillings ranging from marinated duck to cottage cheese and apple.
If you're lucky enough, you'll also see how the dough is prepared. Using a huge table, the dough is stretched out over its entire surface area to such thinness that a newspaper can be read if placed between the wood and pastry. Onto that are placed the ingredients in a line running lengthways along one side before the entire thing is flopped over a few times, cut into threes and then baked.
The pastry becomes more a bag for the ingredients than anything else. Either way, you won't try anything this great in terms of pastry anywhere outside of Hungary.
Luckily, there's a slightly more healthy approach to dessert for those wanting to avoid more fat in their diet. While still not quite an angelic after-meal treat, the Priest's Hat certainly sounds saintly enough – and it is.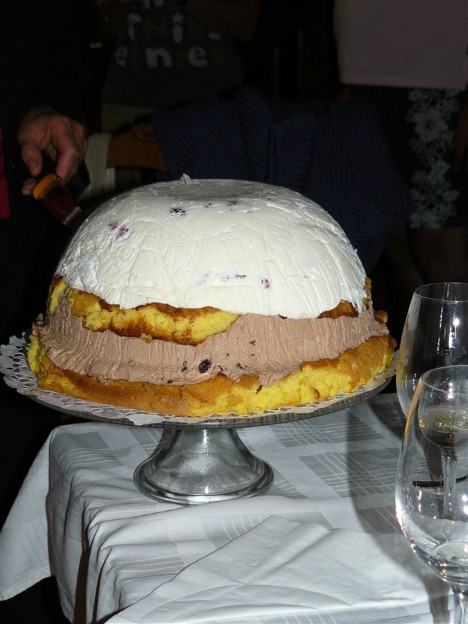 Essentially an icy dome, this Hungarian delight is made from layers of cake and ice cream, with the top layer of vanilla dessert accounting for around half of the dish. Served like cake, the slices also contain copious amounts of raspberries and other fruit. It's surprisingly light too, which will allow many people to breathe a sigh of relief after a solid meatfest for their main course.
While Hungarian gastronomy is reliable and varied between a limited number of dishes, its real strengths lie in its ability to produce two very distinctly Hungarian alcoholic drinks: a spirit and a wine. Neither of them will be forgotten after being sampled and for completely different reasons.
Palinka. Ahh, palinka. Any holiday in Hungary should not pass without a small glass of this. Made from fermented fruit of any kind – apples, plums and apricots are favoured – this spirit is by no means in short supply.
It's the brandy of Hungary, many residents say, though to the more cultured tongue it may seem closer to vodka or Brazilian cachaca. If you're lucky enough to try palinka made by a true expert, the chances are you'll like it. You'll still struggle to disassociate yourself from the severe shudder that follows it however, which mimics most people's reaction after a shot of tequila.
Produced in vast quantities in some fine distilleries across Hungary, particularly in the east, palinka can range in strength from 35 per cent to 51 per cent, though you'll be hard-pushed to tell the difference. It's… an experience. You may like it. Surprise yourself on your next holiday in Hungary.
Those willing to shell out a little more for their alcohol can invest in a bottle of tokaji – likely one of the finest wines you will ever taste in Europe. While this is a big claim, the inhabitants of the Tokaj, a historic town and Unesco World Heritage Site on the country's second-largest river – the Tisza – know exactly how to make their taster of choice.
Those lucky enough to travel in this picturesque area may want to drop in on Hudacsko Pinceszet, a rather exclusive tokaji producer which produces around 50,000 bottles of the unique wine each month in its well-developed range of underground cellars.
You can expect one of the sweetest and most intoxicating drinks ever with tokaji. Despite only ranging between 12 and 15 per cent alcoholic content, it's such a beautiful dessert wine that you'll find yourself drinking it like water.
Grapes are picked when they are over-ripe, creating a sweeter yet more acidic taste as the fruit shrinks more. The longer they are aged in oak barrels, the less dry they become. More sugar is found in casks left for a lengthy spell, though the choice of grape is also an obvious factor in this.
Basic wines will have as little as 6g per litre of sugar. Those lucky enough to get hold of the rare 2000 tokaji of Hudacsko Pinceszet – which has 185g of sugar per litre – will shake God by the hand when taking a sip. 2000 is widely regarded as the best-ever year for wine production in the town and it's hard to disagree. Maybe your wallet will, however, with the average bottle costing £200. It's worth every penny.
Not to worry, though – entry level wines won't cost more than £10 and no Hungarian holiday would be complete without these drinks.
Really, it's a strange place to cite as the home of the world's greatest cuisine but in reality, Hungary has it all. The one thing you'll most likely be surprised by is how everyone in Hungary stays so thin. With meat, potato, pastry and alcohol taking up a sizeable chunk of the country's edible resources, you'll be sure to do plenty of walking during your stay to counteract the daily intake.
Not that this is a problem – with stunning architecture and fascinating people spread throughout the country, Hungary will make sure you enjoy that too.
After all, everyone likes good food, and with the dearth of Hungarian restaurants in the UK, you have to go there to really understand it. The promise of top grub will be fulfilled.
Just try not to make the obvious pun with Hungary and anything to do with food. People won't be angry – just disappointed.
Matthew Gardner