Get ready for a Grand rafting experience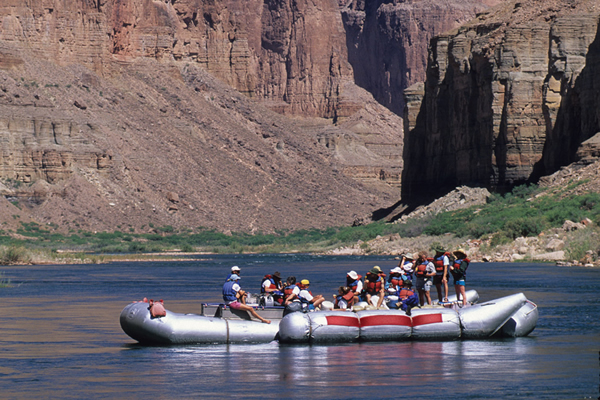 Adventure holidays come in all shapes and sizes and are sure to offer something for everyone looking for a break that offers a bit more of a challenge that than just lying on a tourist-packed beach.
However, for a truly momentous activity vacation the Grand Canyon has it all. Located in the south-west state of Arizona, the gorge – crafted by the Colorado River – is one of the most stunning natural wonders in the world, with millions coming from all across the USA every year as well as further afield to see it.
An aptly-named wonder
Visitors are unlikely to be able to truly appreciate the full splendour of the Grand Canyon – located in the Grand Canyon National Park – until they see it for themselves.
And they do not have to worry about it not living up to its title. Some 277 miles long and up to a mile deep in places, it won't take long for people to realise that the canyon's name is more than an adequate one.
However, while looking down into the canyon from one of the many sight-seeing spots will offer people pulsating panoramic views, perhaps the best way to get a great Grand Canyon experience is from the bottom up and by taking part in some white water rafting Grand Canyon. Ideal for those who really want to get stuck into their adventure travel experience, Grand Canyon rafting offers the chance for people to take to the water and get up close and personal with the natural wonder.
Of course, taking snaps from the top is sure to provide a number of breathtaking photos to put in a picture book back home, but by heading to the bottom of the canyon and making their way along the Colorado River in a raft, travellers could find they are able to experience so much more. From the river, visitors can gaze at the seemingly endless rock formations, discover waterfalls and look into mountainous caves. Adventure-seekers, meanwhile, are sure to find the white water sections of the river gets their hearts pumping as they speed along over falls and rapids, which is bound to be much more thrilling than the pedalo at your local park!
Stunning scenery and wildlife
On top of the geographical splendour, a rafting trip along the Grand Canyon also offers nature lovers the chance to spot some amazing wildlife. Indeed, coyotes and beavers are among the canyon's inhabitants, while barn owls, golden eagles and California condors are just some of the birds that keen ornithologists may want to keep an eye out for.
Meanwhile, flathead minnow, rainbow trout and humpback chub are among the numerous fish which could be seen as trekkers paddle along in the river. If the thought of such a boating experience has whetted your appetite for the Grand Canyon, the fact TrekAmerica offers a seven-day boating holiday along the vast majority of the Colorado River may be the perfect way to indulge in this once-in-a-lifetime adventure.
A guide will be on hand to ensure that boaters do not miss out on any of the canyon's sights or wildlife as they make their way along the river. At night, travellers set up their tents and will be able to gaze up at the canyon to the wide-open starry sky before getting some sleep ahead of the next day of rafting.
However, those worried that a week on water could see their possessions ruined need not worry, as a number of waterproof boxes and bags will ensure that clothes, cameras, sleeping bags and other items are kept safe and dry.
But there will be a chance to get on terra firma during the break, with hiking and fishing some of the optional activities that people can take part in. Meanwhile, those looking to take a break from the exertions of rafting may look to sit quietly by the water's edge and relax. Whether they wish to dive into a good book, write an entry in their journal or take some snapshots as a reminder of the experience, the stunning scenery on hand will allow people to relax in a glorious setting before heading back on to the raft. With a name like Grand, travellers could well be forgiven for thinking that rafting along the canyon will be an extremely arduous and challenging experience. However, those who have never been rafting before will find that they have nothing to fear.
TrekAmerica points out that no previous rafting knowledge is required. In fact, even people who cannot swim will still be able to take a full and active role in the rafting holiday, as life-preservers – issued by the US Coast Guard – are on hand, which everyone is required to wear at all times while onboard. In fact all you need to make the most of the adventure holiday is to be comfortable around water and the simple desire to have a good time!
So whether you are an experienced boatman looking to put your skills to the test in a new environment or simply want to take on one of the biggest natural wonders of the world, white water rafting along the Grand Canyon is sure to be up your street. Or should that be river?
---