Taking a trip to Ontario, Canada? Don't waste the chance to see this area's stunning nature, as it offers some of the greatest outdoor adventures and photo opportunities in the world. Naming all of the natural wonders in Canada's most populous and second largest province would take ages, so instead, take a look at its ten most iconic and worthwhile sights to check out on your travels.
Niagara Falls
No matter where you're from, you've definitely heard of one of Canada's most famous and majestic natural sights. Creating a natural border between Canada and USA, Niagara Falls is easily reachable by car from Toronto—about an hour and a half drive. Go with a car rental in Toronto or take a tour bus and head for the trip of your lifetime. The power of 155 million liters of water flowing down the falls every minute will no doubt leave a strong impression on you. For a little extra adventure, take a ride on the Maid of the Mist or a walk behind the falls.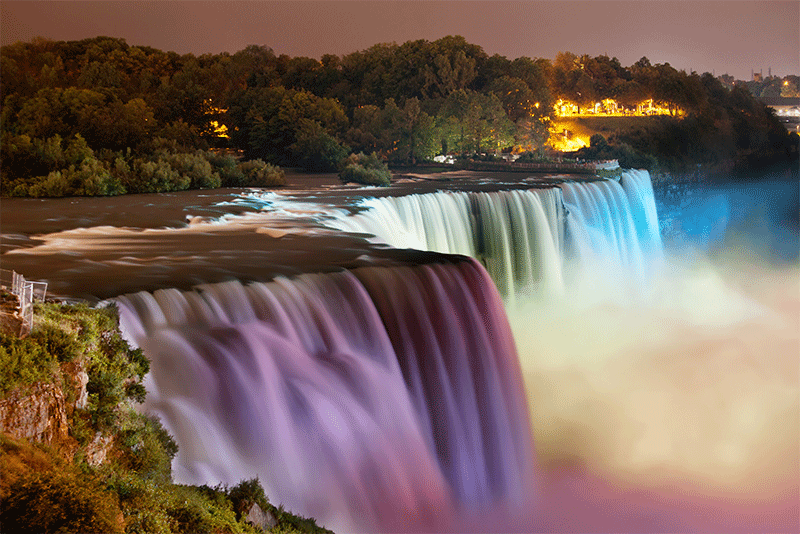 White River, Pukaskwa National Park
Pukaskwa is one of Canada's seven national parks,and arguably one of its most famous on the eastern side of the country. This beautiful area has a lot to offer but there's one ultimate attraction you simply cannot miss—The White River Suspension Bridge, a swaying walkway set 23 meters above the mighty Chigamiwinigum Falls. Make sure you're not afraid of heights or adventure, as you must pursue the 18 kilometers long upward hike before reaching the bridge. But rest assured—the view is definitely worth the effort!
Bonnechere Caves
Ontario is full of caves so if that's your thing, you cannot really go wrong with this province! If any of them deserve to be mentioned individually, it has to be Bonnechere. These beautiful caves offer exciting mazes made of ancient limestone. Go on the hunt for fossils and bats, or just take the time to admire the majesty that nature has created.
Elora Gorge and Quarry
This beautiful spot in Ontario is a perfect spot for some swimming. The two kilometers long limestone gorge contains 22 meters high cliffs and is located just about 100 kilometers from Toronto. Even though the beach might be rocky, the quarry's water is crystal clear and a gorgeous shade of turquoise.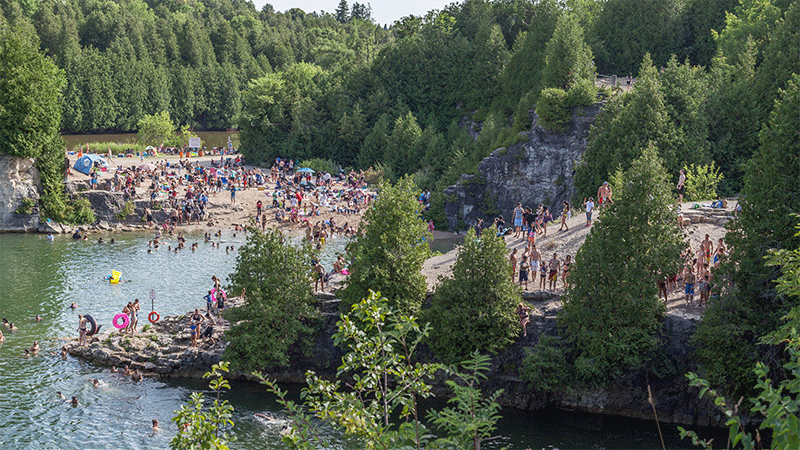 Lake Huron
One of the five Great Lakes of North America is definitely a must-see for all those who love nature and shipwrecks! Icy waters of this breathtakingly large body of water hide dozens of perfectly preserved wrecks dating back to nineteenth century. If you're a fan of nautical history, take a shipwreck tour around the lake, and maybe stop for some fishing or even sunbathing.
Manitoulin Island
While in the area of Lake Huron, take some time to explore its most renown island called Manitoulin. Why is this island so special? Well, it's because the island itself contains 108 lakes, some of which contain their own islands with even small lakes! This island is also full of extraordinary history, like archaeological sites from First Nations' and European settlements.  
Thousand Islands
If you're still interested in visiting more islands, then the archipelago known as Thousand Islands is another fantastic spot to visit. It consists of 1,864 islands—yes you heard that correctly!—in the Saint Lawrence River near Lake Ontario. Apart from it being another beautiful example of nature's variability, it also houses numerous charming castles, many of which have been tastefully renovated and are open to the public.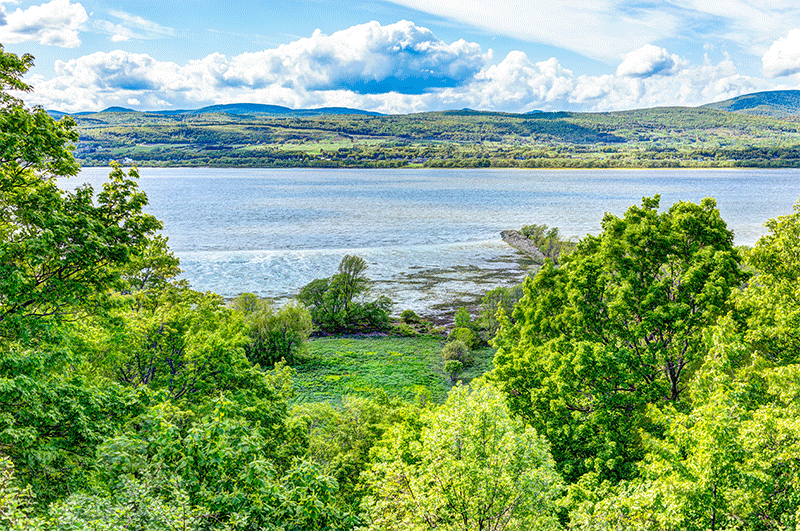 Mazinaw Rock
This 100 meters high cliff in Addington Hills is a popular destination for canoeists and kayakers and towers dramatically above the waters of the beautiful Mazinaw Lake. It's also considered a treasure of Canada's history, as it shelters over 260 stunning pictographs made by prehistoric inhabitants.
Cheltenham Badlands
Cheltenham Badlands make you feel like you're visiting another planet—namely Mars! This interesting natural formation was created by a combination of bad farming practices and dried river that once shaped this area. It owes its red color to the vast iron oxide deposits in the soil.
Sleeping Giant
This large formation of sedimentary rocks known as Sleeping Giant can be found in Ontario's Thunder Bay. It resembles a large figure laying on its back and draws the attention of thousands of visitors from all over the world. This site is ranked first in national polls for the Seven Wonders of Canada, beating even the famous Niagara Falls!