New Zealand is the perfect country for road trips. Ever-changing scenery with well-maintained roads, and lots of little places to stop and see along the way- with a flat white and a sausage roll of course (or, a cream bun and custard square!).
There are many camping grounds along the way with minimal fees, so take your car or campervan and hit the road! If you don't have car insurance already check out State NZ Car Insurance.
Auckland to Cape Reinga
Takes: 3-4 days
Leave the hustle of Auckland city behind and head north to Paihia, which is a great place for some rest and relaxation. Swim with dolphins, visit the birthplace of NZ – Waitangi, and then take a boat tour around the Bay of Islands. Ferry over to Russell and explore the local food scene.
Head towards 90 Mile Beach (which is actually 55 miles long) and Cape Reinga. Take detours inland and find native forests with Kauri trees 1500 to 2000 years old. There are plenty of diversions to waterfalls and swimming spots too. When you reach Cape Reinga, take a walk to the lighthouse, or sand board down the sand dunes at North Head.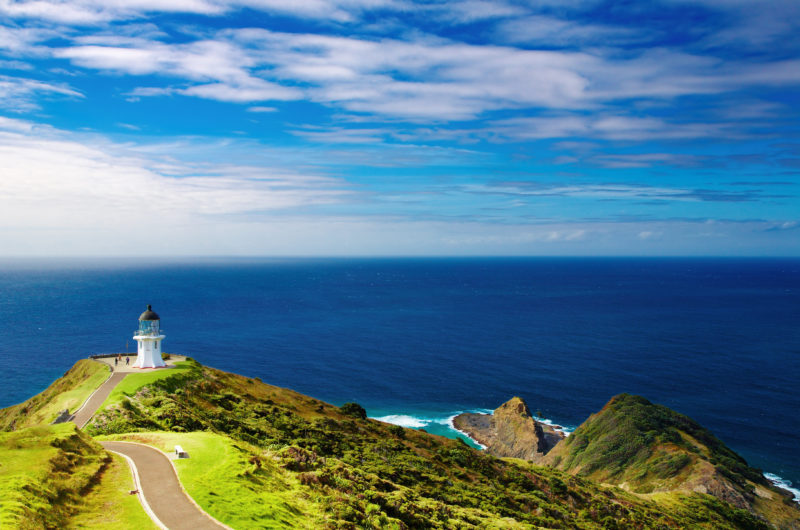 Rotorua to Gisborne
Takes: 3-4 days
Start in Rotorua, which has plenty to do in itself. Head east towards Whakatane, then onwards to Gisborne. Stay a while, surf, feed the stingrays, and enjoy the sunrise. The next day head north-east and enjoy the rugged coastline on the way to Tokomaru Bay. Take a quick diversion to the longest pier in NZ, Tolaga Bay Wharf, and launch yourself off the end of it for a quick swim. From Tokomaru Bay, head onwards to the East Cape Lighthouse, NZ's most eastern point.
Rotorua loop
Takes 4-7 days
Head west from Rotorua and be inspired by the unique landscapes. Enjoy the relaxed vibe and a spot of surfing when you reach Raglan, and stay in Karioi and indulge in a magical open rainforest shower. The following day, around 1.5hrs south, you'll find Waitomo which has one of New Zealand's cave networks. You can tube, abseil, or take a boat ride underground but whatever you do, don't miss the Waitomo Glow-worm Caves.
Then continue two hours south and stay in Taupo. This is a beautiful part of the country alongside NZ's largest lake. It has plenty of tourist attractions and activities- if you want to launch yourself out of a plane then this is the place! Walk the famous Tongariro Crossing and soak in the gorgeous surroundings of one of NZ's nine great walks.
From Taupo, head towards Hidden Valley and experience the hot springs, caves, silica terraces, and mud pools before going to Tongariro National Park. With plenty to walk and admire there, you will be happy to head back to Rotorua for a rest- of course, stopping at Huka Falls on the way.
Queenstown to Milford Sound
Takes 2-3 days
Milford Sound is one of the most incredible places in the world, and the drive to get there is not to be sneezed at either. Start at Queenstown and head towards Te Anau. Stay in Te Anau overnight and enjoy a stroll along the waterfront or take a boat trip to the glow-worm caves. The next day go to Milford. Stop by the Homer Tunnel and take a quick walk to find some kea. Go through the tunnel and on the other side you'll find stunning views which requires a photo-stop. There's not much in Milford itself but take a cruise on the clear, cold waters of the Sound. Head back to Te Anau for a final night.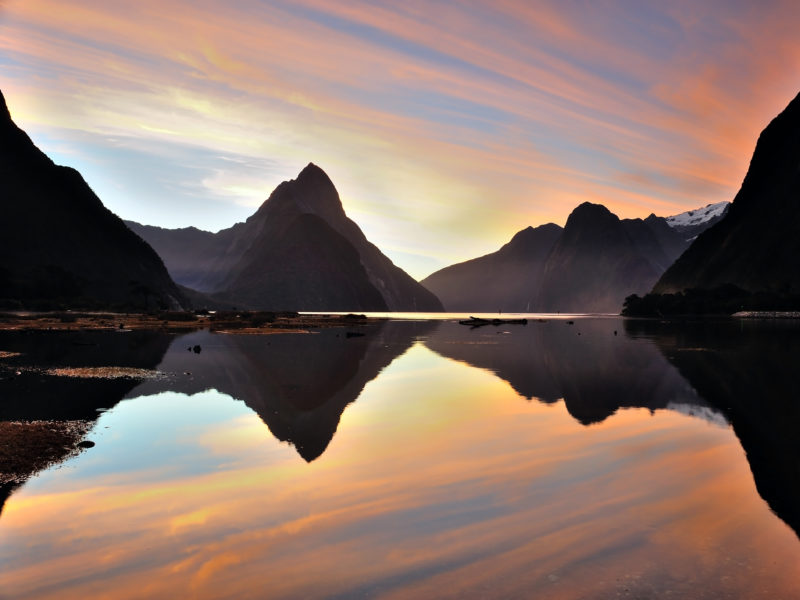 Queenstown loop to Mt Cook
Takes: 4-5 days
Head over the pass to Wanaka from Queenstown and stop in at the oldest pub in NZ. You'll recognise the Cadrona from TV advertisements so it's worth a photo. Stay at Wanaka – go for a walk along the waterfront, or find the Instagram-famous 'lone tree'. Wanaka has oodles to see and do- from skydiving to a gentle walk up Mt Iron, from Puzzling World to skiing and snowboarding.
Head towards Tekapo the following day, winding through narrow valleys, over the Lindis Pass and then cruise the plains of the McKenzie Country. Head to Mt Cook and walk to the glacier lake and watch the avalanches on Mt Cook for a while before heading back to the car. Lake Pukaki with its cool blue waters sparkles in the sunlight and leads you through to Tekapo. With an ice skating rink, hot pools, and the Mt John walk and observatory, you are spoiled for choices of things to do. Tekapo is world famous for the stars at night due to its low light pollution.
Timaru is a short drive away, then through to Oamaru with its penguins and Whitestone Cheese shop. Stay at Oamaru overnight and then head south, sticking to the coast. Moeraki is a great lunch spot, with its geological wonders, the boulders. From here, you are placed to loop back to Queenstown or continue to head into the deep South.
For more places to visit in New Zealand please see museuly.com