'A great day for cycling,' declares Johnson
Monday, 5 August 2013 8:53 AM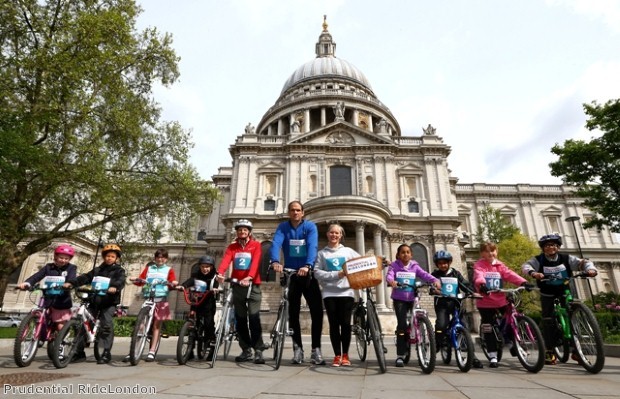 Mayor Boris Johnson described London's first weekend of cycling as "one of the greatest cycling events in the world" as the Prudential RideLondon festival came to a successful close Sunday evening.
Johnson completed the Prudential RideLondon-Surrey 100 sportive event this afternoon in just over eight hours, one of nearly 16,000 finishers.
"This is a great day for cycling, and for this city," he said. "I want to thank the organisers and the wonderful crowd who made all the difference as we cycled by, helping to spur me on to finish the gruelling 100 miles in a respectable eight hours.
"Huge congratulations to everyone who took part – Prudential RideLondon is now firmly on the map as one of the greatest cycling events in the world."
Just 24 hours earlier, more than 50,000 recreational riders filled the streets of central London in the Prudential RideLondon FreeCycle, while the event's official ambassador Laura Trott delighted fans in The Mall yesterday evening by winning the first Prudential RideLondon Grand Prix.
Frenchman Arnaud Demare brought the weekend to a dramatic and emotional conclusion in front of huge crowds on The Mall this evening, winning the Prudential RideLondon-Surrey Classic men's road race with a brilliant sprint finish in memory of his recently deceased coach.
"We had a fantastic sportive and race today to finish an historic weekend festival of cycling," said Event Director Hugh Brasher. "The first Prudential RideLondon has been a great success with cycling taking over the streets of London and Surrey and a host of top-class elite races watched by enthusiastic crowds.
"It just shows the huge appetite there is in this country for cycling of all types and levels, from families and recreational riders, to commuters and professionals racers. The aim of the event was to inspire more people to take up cycling and we are confident that the thousands who turned out have helped to do that."
For Surrey County Council Leader David Hodge, the sight of Surrey's roads full of cyclists was a welcome reminder of last year's Olympic Games.
"From Big Ben to Box Hill, this was an extraordinary spectacle," he said. "It was wonderful to see cyclists both young and old conquering climbs and winding their way through Surrey's beautiful countryside while being urged on by many thousands of people lining the road.
"Together the bike riders and spectators created a carnival atmosphere that ensured this celebration of cycling was a huge success.
"Now we're looking forward to welcoming the event again next year to inspire even more people to get on their bikes and further cement Surrey's reputation as a world-class place to ride."
Follow us @travelbite