The number of couples choosing to head to exotic climes for their weddings is on the rise. It's easy to see why – with good weather and stunning backdrops guaranteed, and wedding planners on hand to sort out the minutiae details, this can actually be a relatively stress-free option for intrepid couples. With numbers for destination weddings tending to be small – typically 10-15 guests – the event itself will also feel far more intimate. While some couples choose countries they've holidayed in before – and fallen in love with – for many couples it can be an opportunity to travel to destinations they've always dreamed of. Another added bonus is that you're well placed for the honeymoon! Here's our list of the ten best countries worldwide for destination weddings:
Mauritius
With many tour operators offering wedding packages in Mauritius, its easy to see why this is the number one choice for UK brides. In fact, it's been named as Kuoni's top wedding destination for 2018. The wealth of luxury resorts on this exclusive yet accessible island means that all types of wedding are on offer – from beach themed to more romantic, secluded intimacy. Bespoke packages are available, so you can tailor your special day just the way you want it, with minimal fuss and stress. Not only are there heavenly beaches on offer, but the island also offers plenty of activities, including botanical gardens, snorkelling with dolphins, visits to volcano craters and quad biking, as well as some of the amazing spas in the World. With so much on offer, Mauritius is an excellent venue for keeping family and friends entertained, and is an excellent wedding and honeymoon destination.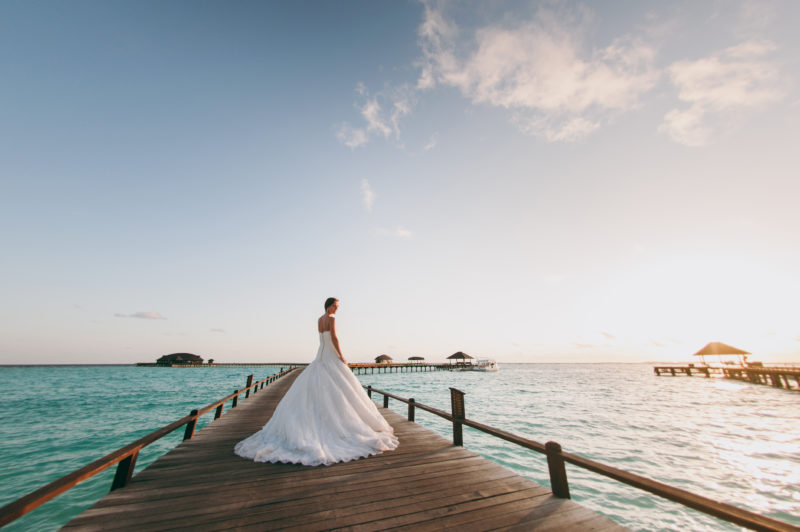 Italy
If you're looking a jaw-dropping backdrop for your wedding, then look no further than the Amalfi Coast in Italy. As destinations weddings go, it's well placed for British brides as you won't have far to travel and your guests will enjoy beautiful food in amazing surroundings. Take in the Amalfi Drive – one of the most scenic stretches of the Amalfi coast – visit the island of Capri or shop in the ancient streets of Naples. There's plenty of culture on offer, so you never get bored. Another popular venue if you're interested in Italy is the rolling hills and vineyards of Tuscany. If you're looking for a rustic, romantic wedding, set in olive groves or against a backdrop of vineyards then this has got to be your number one choice.
Saint Lucia
When it comes to the Caribbean, the island of St Lucia is hugely popular for destination weddings. Combining lush tropical forests, banana plantations and beautiful palm-fringed beaches, this tiny island is only 27 miles long and 14 miles wide, but has so much to offer. If you fancy your wedding ceremony taking place in front of a rushing waterfall or within beautiful exotic gardens, accompanied by steel drums, then this is the venue for you. Again, there are plenty of activities on offer – including zip-lining over the rainforest, visits to sugar plantations and even driving into a volcano. When it comes to accommodation, the island offers the height of luxury, from luxury hotels with infinity pools to clifftop villas and cosy cottages on plantations.
North America
The top destination wedding venue in North America has got to be the one and only Las Vegas. It's known as the 'marriage capital of the World' and it's easy to see why. Not only is it easy and straightforward to get a marriage licence, but weddings cost as little as $75. With every permutation of wedding on offer, be that religious, drive-through or even Star Trek themed, it's easy to see why an average 100,000 wedding licences are issued per year and over 80,00 couples choose the bright lights of Vegas for their nuptials.
Antigua
Known as the 'romance capital of the Caribbean', Antigua boasts some of the most beautiful, pristine beaches in the Caribbean. Indeed, with 365 beaches on offer for your vows, it's the perfect setting for a wedding in paradise. Pigeon Point, Fryes Bay and Hawksbill beach are some favourites, to name but a few. Getting married on Antigua is extremely easy and you can even get married in a day if you're visiting on a cruise.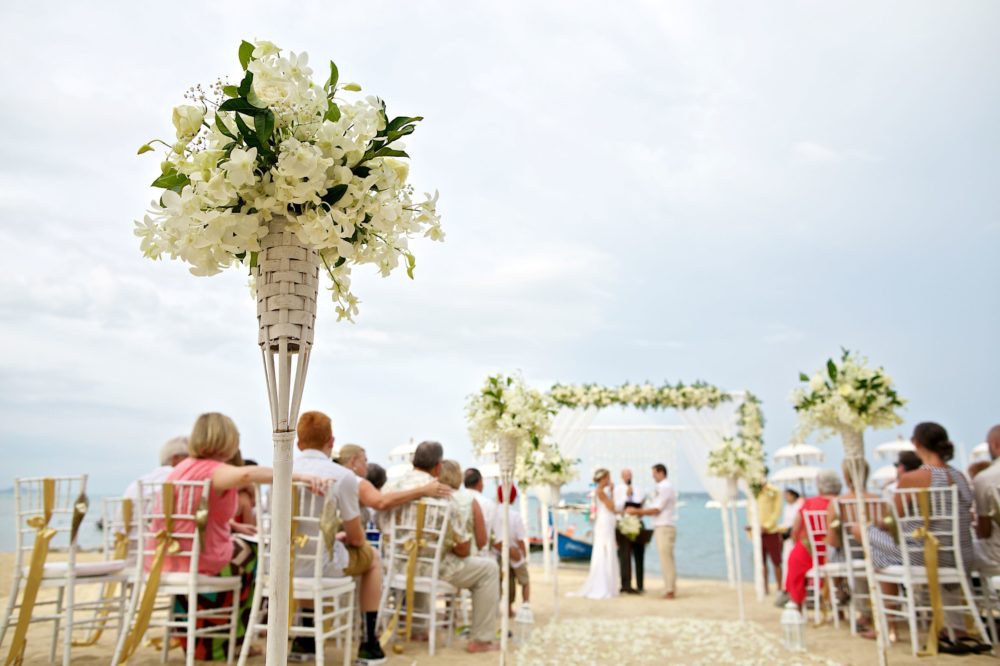 Sri Lanka
If you're looking to get married somewhere out of the ordinary, then Sri Lanka is the perfect choice for you. A culture lover's dream, Sri Lanka combines beautiful scenery with ancient ruins and amazing wildlife reserves and has been named the World's best country to visit in 2019 by Lonely Planet. This amazing country offers a sublime choice of wedding locations, including golden sandy beaches, clifftops overlooking the Indian ocean, rolling tea estates and settings overlooking lakes and waterfalls. In fact, to help your day be that much more memorable, you can combine the ceremony with a ride on an elephant! If you want your special day to be a truly unforgettable and unique event, then Sri Lanka is the location for you.
Mexico
Mexico has everything – sunny weather, beautiful coastlines, colourful culture and a wide choice of wedding destinations – so it's easy to see why it's such a popular venue. From Los Cabos on the Baja Peninsula to Rivera Maya's ancient Mayan ruins on the Caribbean coastline, there are many beautiful locations to choose from. If you're looking to get away from the crowds, choose the peaceful island of Cozumel, a nature lovers paradise. If you're looking to get away from the crowds, choose the peaceful island of Cozumel, a nature lovers paradise or perhaps the beautiful beachfront resort of El Dorado Maroma in Mexico.
Jamaica
No list would be complete without Jamaica. This Caribbean island is consistently voted one of the most popular wedding destinations in the World. Ringed by beautiful sandy beaches and steeped in African-American tradition, this lush island has beaches, waterfalls and mountains to explore. Whether you choose a sumptuous beach wedding on the edge of the Caribbean Sea or exchange vows on a sunset catamaran cruise, this is guaranteed to be the height of glamour and sophistication. Given its popularity, there are many island and resort wedding planners on hand to make sure your big day goes smoothly and the only hitch involves the words 'I do'. The Half Moon Resort offers a range of options for those looking to take the plunge and can even arrange a wedding while couples on Caribbean cruises are on shore.
South Africa
It may be an 11+ hour flight from the UK, but incredibly, this amazing destination is on a similar time zone to most of Europe, meaning minimal jet lag for acclimatising couples. When it comes to achingly beautiful backdrops, South Africa has it all and has been dubbed 'a world in a country'. It's easy to see why, just from the choice of wedding locations. The 'land of milk and honey' offers a huge range of weddings in fabulous settings – spectacular beaches, awesome mountains on the Cape, private game reserves, the desert plains of Karoo, magical forests, rolling vineyards and the cityscapes of Cape Town, Johannesburg and Durban. With so much on offer, this is an excellent choice for your wedding and honeymoon, if you want to experience the holiday of a lifetime.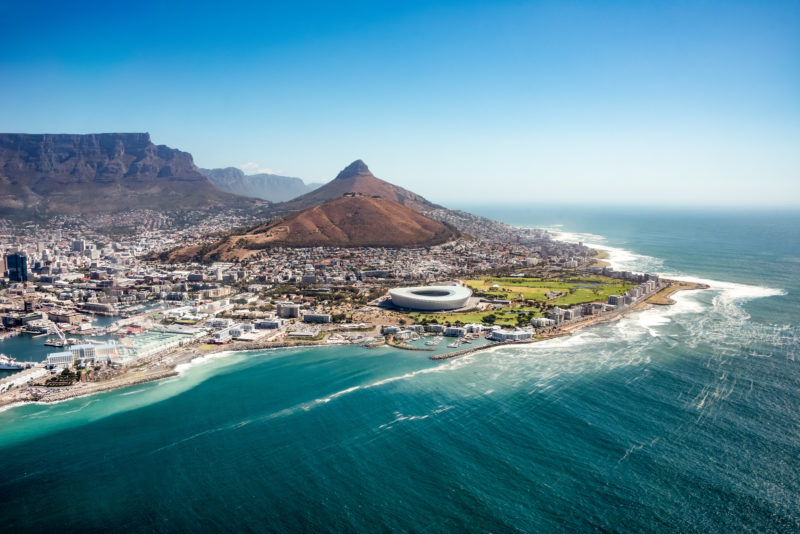 Thailand
Crystal clear seas, rich coral reefs, beautiful beaches, ornate palaces and and perfect weather all combine to make Thailand an exotic gem of a wedding destination. From the buzzing metropolis of Bangkok, to the luxe resorts of Koh Samui and Phuket, as well as some of the most delicious cuisine on the planet, Thailand is becoming increasingly popular as a wedding destination. Friendly locals, amazing wildlife and incredible scenery attract both the high-end traveller and backpacker alike, and there's something for everyone and for every budget. It may be a long flight from the UK, but once there you can experience an amazing wedding and you're well placed for the honeymoon of your dreams.
Wherever you decide to get hitched, don't forget to get all of your documents in order before you travel. As well as making sure you have a professional wedding photographer booked in order to capture your beautiful picturesque wedding. Each country will have their own set of rules, from documentation to minimum residency time. Also, make sure you have a good packing list so you don't overlook essentials for the day. Even if you're on the beach and barefoot, you'll still want the perfect dress. Curvy brides should also plan to pack that plus size shapewear, for maximum comfort and silhouette honing for those all-important photos.