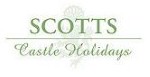 Summer folk festival fun at the Hebridean Celtic Festival
Thursday, 8 April 2010 12:00 AM
---
If you are planning a holiday in Scotland during the summer then you should consider planning your trip to coincide with the annual Hebridean Celtic Festival.
Held each July, the music event promises to keep everyone entertained.
You might want to book some accommodation in a castle during the festival to make the most of the experience without having to get back to nature by camping in a field.
The festival takes place across a range of venues in Stornoway and on the islands of Lewis and Harris.
One of the most prominent locations for the festival is on the Castle Green, in front of Lews Castle.
This is where you will find the main festival tent which can hold up to 5,500 people for each concert.
Many of the biggest and best acts will play here during the four-day event.
Being in such close proximity to this spectacular building might even encourage you to seek out Scottish castles to rent, so that you can return to somewhere equally as spectacular as the festival's surroundings.
The line-up in 2010 includes a wide range of folk artists, such as Treacherous Orchestra – a 13-piece super group – and Blazin' Fiddles, who are described as "one of the most exciting and memorable fiddle ensembles ever to take to the stage".
If you feel like you want to get under the skin of this melting pot of Celtic culture then the Gaelic language taster workshops being run by the organisers on the first three days of the festival could be for you.
Another way to discover the history of the Outer Hebrides is to visit Seallam on Harris.
As one of the rural venues for the festival, there will be plenty of musical entertainment to keep you busy but the facility is also home to a permanent exhibition about the history and natural environment of the islands.
Whichever mansions in Scotland you decide to stay in, if you are in or around the Outer Hebrides in July, you shouldn't pass up the opportunity to experience some of the sights and sounds of the Hebridean Celtic Festival.