Relax on Mauritius honeymoons with Beachcomber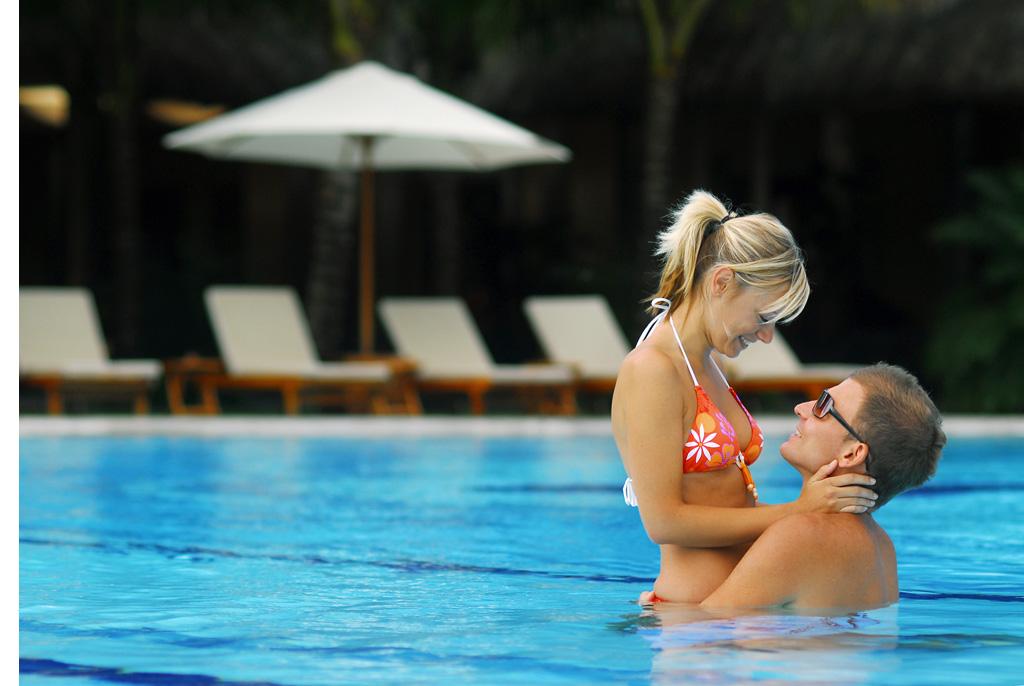 After the stress of organising a wedding, there is no better thing to do than to get away from it all with your new husband or wife.
There are many options open to newly-married couples nowadays, but a Mauritius honeymoon is still one of the most picture-perfect choices available.
Imagine waking up each morning and being greeted by views of gorgeous white sand stretching into the Indian Ocean.
If you come to Beachcomber to book your honeymoon on Mauritius that is exactly what you will get.
We operate eight hotels on the west coast of the island, each with a beachfront location and fantastic facilities to make your first holiday as a married couple a truly special one.
What kind of Mauritius honeymoon packages are available?
At Beachcomber, we understand that you will want every aspect of your honeymoon to be special.
Our different resorts can cater to various tastes, with everything from secluded villas on the beach to rooftop suites complete with a private plunge pool on offer.
And we'll even give you an incentive to leave your hotel room and enjoy some of Mauritius' other attractions with a complimentary water skiing lesson for the pair of you!
If you want every aspect of your break to be taken care of then you may want to opt for a Mauritius all inclusive honeymoon.
As you would expect, this package provides everything you could want during your trip, from meals at your hotel's high-quality restaurants to sporting activities if you want to do more than just soak up the sun in each other's company.
Of course, you should check out what a luxury honeymoon on Mauritius can provide. If you book one of our luxury packages, you will find that you are in the best hands.
All of our hotels have spa and wellness facilities, so you may want to ensure that you book a few treatments during your stay.
You will be given some of the most spacious and luxurious suites at any of our Mauritius hotels and you can look forward to receiving impeccable service from our staff.
Mauritius is a true paradise island and it makes the ideal setting for your first holiday as a married couple as you enjoy the beginning of wedded bliss.
Beachcomber can take care of all your honeymoon needs
Here at Beachcomber, we pride ourselves on the level of service we offer to all our guests and if you choose to take your honeymoon in one of our hotels, you will not be disappointed.
You may also want to book your wedding here, allowing you to take full advantage of the beautiful surroundings on your special day and then start relaxing immediately without the hassle of having to travel to reach your honeymoon destination.
Booking honeymoons with us is straightforward and you can get a quote online or over the phone – just contact us and we will be happy to help you plan the perfect break.
All of our holidays are ATOL and ABTA protected, so you need not worry about a thing – and we are a member of the Association of Independent Tour Operators to give you extra peace of mind.
Visit Beachcomber and start planning your perfect honeymoon on this tropical island paradise.
---