If we sit down and think about all the reasons why Tanzania is the ideal place to visit in Africa, we would end up with a long list. The majestic Mount Kilimanjaro, the fascinating wildlife experiences offered at Serengeti National Park and the stunning beaches and vibrant spice markets of Zanzibar – what's not to love about this beautiful place? However, for anyone who has to travel with kids, there are so many other considerations — is the place too expensive to visit as a family? Are there enough kid-friendly attractions? Is it easy to get around with kids?
If you are having such thoughts and wondering whether Tanzania is worth visiting with your little ones, here are our top 10 reasons why you need to choose this wonderful country for your next family holiday.
Witness Real-life 'Lion King' Experiences at Serengeti
If your kids love 'The Lion King', they are sure to love Tanzania! Home to the Great Migration that sees a million animals travel in herds in search of water and pasture, the Serengiti National Park in Tanzania is where you will find the largest lions population in Africa along with other members of the Big Five. A safari with the kids is safe and they will have the best time spotting animals and watching them in awe as they go about their lives in their natural habitat.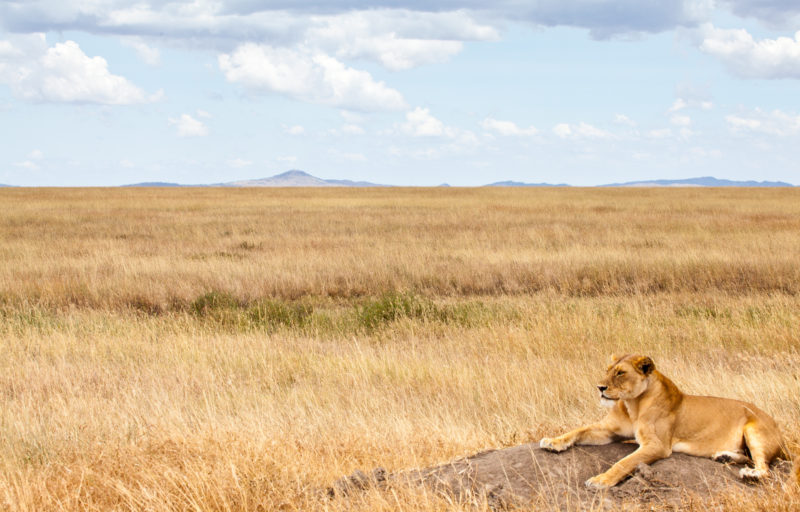 Hike around Breathtaking Mountains
Tanzania is home to the majestic Mount Kilimanjaro, the tallest mountain in Africa, commonly referred to as the 'Roof of Africa'. Although a hike to the top will be too much for little feet, you can enjoy a lovely walk around the area surrounding Kilimanjaro amidst beautiful plantations and just enjoy views of the magnificent mountain from the ground.
Enjoy Water Activities at Beautiful Beaches
Once the kids have had enough of the animals, you can explore a bit of Tanzania's stunning coastline. The magical island of Zanzibar is the most popular choice for tourists looking to enjoy some quality time by the sea. With plenty of luxurious beach resorts and fun-filled activities for people of all ages, you are sure to have a great time as a family. The kids can play in the water and make sand castles, while you and your partner relax and unwind.
Explore Vibrant Local Markets
If you want to give your kids a chance to see the local lifestyle, Tanzania's cities are bustling with colourful markets waiting to be explored. Take the family out for a walk around the local streets and get a chance to see tons of fresh local produce being sold as well as fragrant spices. Buy some souvenirs to take back home with you and don't forget to snack on some barbequed corn, a delicious local street food.
Give Your Kids a Taste of Culture by Hanging Out with Locals
With Tanzania becoming a popular choice for tourists to Africa, you will find that the local population is very friendly and hospitable towards tourists. If you want to give your kids a true taste of culture, take them to Masai village and let them gain the first-hand experience of the local culture. The villagers will love welcoming you to their homes and telling you their story. The local kids will teach your little ones some of their games and they are sure to be fascinated by the experience.
Discover History at Stone Town in Zanzibar
Stone Town in Zanzibar has a unique vibe that you can't find anywhere else – the narrow streets, the gorgeous views of the ocean, the smell of spices at the bustling food markets and the historical places all come together to give you a true taste of Africa.
Children will love wandering around the Old Fort, which is now in ruins but still a pretty sight to the eyes. You can then head to Prison Island where giant tortoises wait to welcome you. The Palace Museum will teach the kids about Zanzibar's Sultans while the Slave Market tells stories of the slave trade – a haunting but truly remarkable experience.
Explore the Ngorongoro Crater
No family trip to Tanzania is complete without the Ngorongoro Crater Safari – a huge, volcanic caldera that is home to 45,000 animals. Since the animals are confined to live in this space, you are sure to spot a large number of them without much effort, making it the ideal place to visit with kids who get bored easily.
Visit the Beautiful City of Dar es Salaam
The largest city in Tanzania, Dar Es Salaam is a wonderful place to explore with the whole family. Here you will find breathtaking scenery and some of the best restaurants and hotels in the country, giving you the chance to enjoy some top-class food. Visit the busy markets and historical places, such as the Askari Monument and National Museum and once you are done, explore the beautiful coastline nearby at Jangwani Island.
Discover Lake Tanganyika
Lake Tanganyika, the world's longest freshwater lake, is a great spot for a family picnic by the water. A walk around the lake while soaking up the gorgeous scenery is the perfect way to relax after visiting the numerous national parks and beaches. There are also plenty of activities around the idea – you can go kayaking, swimming, fishing or travel to nearby places on a motorboat.
Stay at Child-friendly Accommodation
One of the main reasons why people are hesitant to go to Africa with their kids is that they are worried about the lack of amenities. However, this is where they are wrong. With Tanzania's tourism industry growing rapidly, there are options suitable for all kinds of travellers, including families. The luxury accommodation you will find is sure to surprise you. Even the campsites come with all the basic amenities, with some even having swimming pools and play areas for kids.
In conclusion, a trip to Tanzania with your kids can turn out to be an adventure you will never forget. As they say, "A thing of beauty is a joy forever", Tanzania is home to some of the most amazing natural sites that will keep your memories afresh for the lifetime. Just like with any other trip with the kids, you just need to travel at your own pace and make sure to pack all the necessary supplies. Do that and you are sure to have a memorable trip.