Relaxing sailing holidays in exotic destinations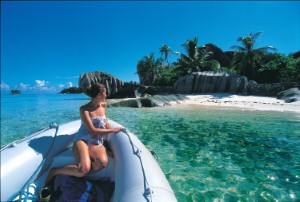 With a reputation for crystal clear waters, balmy climes and seemingly endless stretches of sand, exotic destinations such as the Seychelles are much-loved holiday destinations.
What better way to explore these beautiful locations and really escape the shackles of everyday life than by taking to the waves for a holiday of a lifetime?
The Moorings offers a wide selection of getaway options, whether you're eager to take the helm and sail yourself, or if you'd rather hire a full crew and simply relax as you cruise from A to B.
Alongside amazing sailing opportunities, this kind of holiday allows you to visit multiple locations and therefore try your hand at a vast variety of experiences, from scuba diving and exploring near-deserted islands to relaxing on the beach and mixing with the locals.
Desirable destinations for a sailing sojourn
At The Moorings, we provide breaks to a variety of wonderful exotic destinations.
For example, sailing holidays in the Seychelles are a fabulous choice if you're eager to immerse yourself in unimaginably beautiful landscapes and astonishing wildlife.
Indeed, this glorious archipelago is famous for its irresistibly scenic shores and amazing diving opportunities, allowing you to see some incredible sights both above and below the waves.
Among the places you can visit while sailing in the Seychelles is St Anne Marine National Park, a haven of fascinating wildlife. This protected cluster of islands is famous for the calibre of its diving – and its extensive coral reefs and turtles are certainly well worth keeping an eye out for.
If you're keen to venture inland, you might want to visit Mahe – the most developed island in the destination. Here you will discover striking mountains ideal for hiking, as well as a gorgeous 44-mile coastline and modern entertainment, such as casinos.
Alternatively, you could opt for sailing holidays in Thailand. Another spot famed for its amazing marine life and sunny climes, this area provides some truly excellent sailing opportunities, as well as many fascinating sights to explore.
On a trip here, you can visit famous beauty spots such as Maya Bay on Koh Phi Phi Le – which you may recognise from hit film The Beach.
Meanwhile, its scuba diving is a real experience, with locations such as Shark Point being home to sights such as purple soft coral and colourful tropical fish.
Alongside all these wonderful attractions is the chance to enjoy some fantastic nightlife and delicious cuisine.
Why not find out more about sailing in the Exotics with The Moorings today?
Plan the holiday of a lifetime with The Moorings
Planning your sailing holiday with The Moorings is wonderfully simple.
With more than 40 years' experience, we are ideally placed to help you select the perfect trip that fits in with what you want to see and do, as well as how you would like to sail.
Our custom-built yachts provide a comfortable and convenient holiday home, from which you can explore an array of memorable and exciting destinations across the world.
And as we are a member of ABTA – The Travel Association and ATOL, you can book your holiday with complete peace of mind, knowing your break is fully protected.
So, why not contact The Moorings today on 0844 463 6386 and let us help you plan the holiday of a lifetime?

---