The increased access to long-haul travel has seen Dubai transform from hidden gem to global favourite. The UAE's largest city is now one of the hottest destinations for business folk, families, and travel enthusiasts from across the globe. As far as tourism is concerned, it is the jewel in Western Asia's crown.
With over 14 million people visiting the city on a yearly basis, there's every chance that it will be top of your travel bucket list. Before you make those bookings and planning your itinerary, let's take a closer look at some of the key features ahead of your Dubai stay.
Getting To Dubai
Dubai is an important city for international aviation as it serves as the perfect stop-off for many long-haul journeys. It's two major airports serve hundreds of flights from all over the world on a daily basis.
Al Maktoum International Airport is located to the southwest of the city centre, around 23 miles away. While it provides flights to/from several destinations, most flights are handled by the city's other main airport. Dubai International Airport (DXB) is the busiest international airport on the planet. This is partly due to the connecting flights. It has three terminals and handles flights from many countries. These include daily flights from both Gatwick and Heathrow.
Dubai airport transfers to city zones are the most comfortable option for most people. In truth, those options are probably the best solution for return journeys too. However, the Dubai Metro and bus services do offer alternative routes.
Things To Know
The official language is Arabic, but English is actually the most commonly spoken language in Dubai. This is largely influenced by the number of foreign people that migrate to the Middle East for work purposes. Therefore, you shouldn't encounter any problems on this front during your stay.
Travel visas are required to visit Dubai. However, tourists from most countries are given one for free at passport control. These can range from single visits of 30 days or 90-day multi-visit depending on your country of citizenship. If unsure of your country's requirements, it's always worth checking the UAE's official sources.
Dubai isn't as strict as other places in this part of the world. Still, familiarising yourself with the laws is essential. From the drinking age of 21 to bans on e-cigarettes, those items can impact your stay. As long as you're respectful, though, you won't go far wrong.
Places To Stay
Everyone has seen photos of the iconic Burj Al Arab hotel, and this is the ultimate location for a few days of luxury. It is often called a seven-star hotel and is the 12th most expensive on the planet. However, this isn't the only stylish option at your disposal.
Atlantis is another well-known option while the JW Marriott Marquis and Raffles are sought after too. The percentage of hotels boasting five stars is incredibly high. Still, there are more affordable options out there including Jumeirah Beach and Al Bustan Rotana.
Different hotels boast varying vibes. Therefore, the decision you make will often be influenced by many factors, such as who you are travelling with. However, services like Airbnb unlock the door to alternative accommodation types.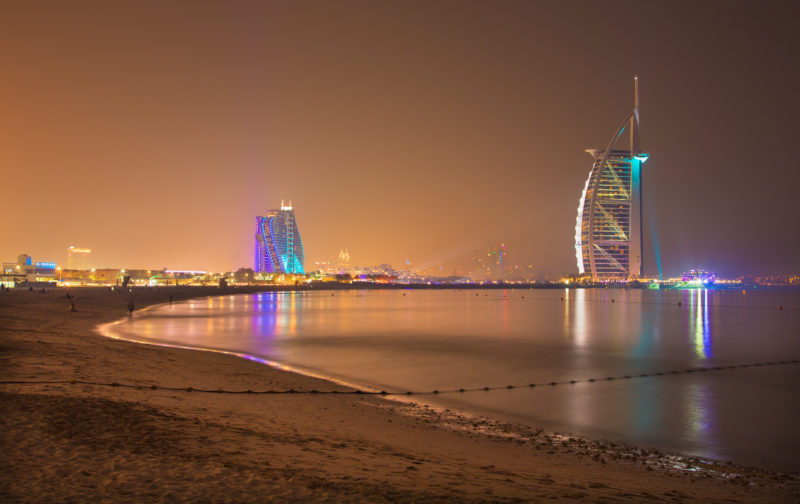 Getting Around
Dubai's public transportation network is still a work in progress with many additions coming over the next few years. However, the city's metro rail and bus services are in great condition. They offer easy access to other areas while taxi services can get you to places in a rush. Meanwhile, the water taxi services can serve as an activity in themselves.
The city's main focal points are within fairly close range, so you may find that travel by foot is suitable for certain occasions. However, the soaring heats should not be ignored. Water and sun lotion are essential. Meanwhile, you should stay moderately covered to avoid causing any offence.
Where To Eat
As a significant city in the worlds of business, celebrity, and tourism, Dubai is blessed with great food. It's possible to find western foods and European influences. However, the Asian and Middle Eastern ingredients are most noticeable.
Dubai's upmarket restaurants are among the most reputable on the planet. Indego, Al Dawaar and Imperium are just three brilliant examples. Then again, moderately priced restaurants can be just as tasty and awe-inspiring. The shopping centres are blessed with a varied range covering quick and cheap foods to undiluted luxury.
A number of cheaper venues throughout the city have gained reputations among locals and tourists. Ravi's is one of them. No matter what your budget or dietary requirements may be, there's no issue finding great food in Dubai. In truth, most hotels boast high-quality and versatile restaurants too.
World-Class Exploration
Dubai is a stunning location, not least because it offers so much variety. Within the space of a few miles, you can see historical landmarks, modern shopping centres, man-made ports, and even the desert. Frankly, with so much to see, it's important that you do it in style.
The boat rides have already been mentioned, but helicopter tours are arguably an even better way of seeing the city skyline. As you look out across miles of natural and man-made beauty, you'll no doubt gain a desire to get even closer. A day trip to the desert via 4×4 can be the perfect addition to any short vacation. You can even get a camel ride in the process. The contrasts between those experiences and those in the city centre are simply incredible.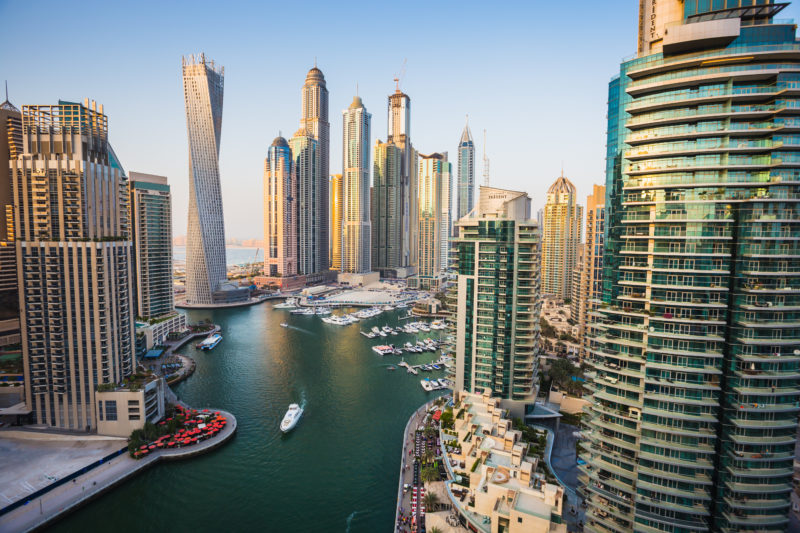 Where To Shop
Many people visit Dubai simply for shopping purposes. Even if this isn't the primary nature of your stay, no trip is complete until you've experienced the best it has to offer. After all, this is one of the factors that make it the UAE's most attractive destination.
Dubai boasts several malls, including Marina Mall and the Mall of the Emirates. But it's the Dubai Mall that stands out as the must-see shopping centre. It is the biggest on the planet and is home to the shopping festival among having many other selling points. Whether it's fashion, homewares, or simply soaking in the atmosphere, the mall caters for all. It also boasts many entertainment features, such as the huge aquarium and cinemas.
The city is also home to markets and smaller shops. Shopping in Dubai does get busy, although most places are very well designed to avoid any discomfort. Buying bitcoins in Dubai can help your shopping trip be stress free. Even if it's only for a few hours, this is an essential inclusion for your agenda.
Places Of Historical Significance
Like many places, Dubai has been changed by globalisation. However, it has retained huge amounts of its cultural charm. Those architectural masterpieces are unique to this part of the world, which is why every visitor should embrace them with open arms.
The Jumeirah Mosque is one of the most popular places for both locals and tourists alike. The Sheikh Mohammed Centre for Cultural Understanding offers stunning views and an education. It is located in Al Fahidi. Similarly, a visit to Shiva Temple is a wonderful experience, even for non-spiritual people.
A plethora of museums will teach you lots about Dubai, the UAE, and the religious traditions of the area. Perhaps the greatest spot, however, is the mock-Arabian site of Madinat Jumeirah. This is truly what your eyes were probably expecting when you first pictured the Middle East.
Family Fun Activities
Dubai probably isn't best known for being a family destination, but it certainly caters well to visitors of all ages. This certainly includes the kids. LEGOLAND, Global Village and IMG Worlds of Adventure are just three theme parks that are sure to leave children jumping for joy. Meanwhile, Bollywood Park is one that offers a little cultural insight in the process.
The city also boasts water parks, which are a great option given the high temperatures all year round. Arcades and play centres are great fun for the little ones too. Perhaps the craziest attraction, however, is Ski Dubai. The man made ski slopes make you feel like you're in Aspen or the Alps. Stepping back out into the Middle Eastern sun is a strange but very memorable experience.
Ultimate Relaxation
When booking a trip to Dubai, time by the pool or on the beaches will have been one of the first things on your mind. While these should be included during your stay, they are far from being the only sources of relaxation. The gardens and similar points of attraction are not to be missed as you look to recharge the batteries.
Dubai Miracle Gardens certainly live up to their name, and the colourful plants provide the perfect backdrop for a casual stroll. Similarly, the butterfly and botanical gardens are wonderful places to step back from the stresses of modern life. The relaxed vibes of Dubai Creek and other locations will add to the calming atmosphere too.
There's so much more to Dubai than the hotels (although they are incredible). When you open your eyes to the opportunities, the trip of a lifetime is virtually guaranteed.