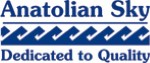 A guide to Turkey's family-friendly destinations
Thursday, 23 August 2012 3:50 PM
---
Trying to find a break that your whole family will love is not easy – and where you choose to go will likely depend on what your children's interests are. However, if you want to enjoy a family holiday in Turkey, here are some suggestions on the best places to visit.
Antalya
The key to making a getaway popular with all members of your troop is to ensure there are enough activities that will keep them amused all day long. One destination that will certainly enable you to do this is Antalya.
This city has everything you could want from a holiday location – ancient sites, modern amenities and golden beaches. Therefore, no matter what your little ones are keen on doing during their getaway, you've got a great chance of being able to find lots to entertain them.
You'll find plenty of historic sites in the region, including Aspendos, where a Roman amphitheatre still remains. It was built around 162 AD and has enough seats for 15,000 people.
While in Antalya, you could head to beaches at Lara or Konyaalti, where your kids can have fun splashing in the sea as you soak up the sunshine on the golden sand.
Alternatively, you could visit Myra, a city that kids will love for its connections with St Nicholas. This bishop was thought to inspire stories about modern-day Santa Claus, as he often left secret gifts for people, much like Father Christmas does today.
Istanbul
If your children are interested in finding out more about the culture and history of Turkey, then Istanbul is the perfect place to head to. The city is teeming with historical sites, museums and exhibition centres, as well as souks.
These colourful bazaars will definitely give your children the chance to learn about the unique shopping experiences in Turkey, with stalls upon stalls selling spices, brightly-coloured cloths, ornate lamps and food.
You could also head to the Blue Mosque, which is perhaps the most famous building in the city. There are also several palaces and large mansions in Istanbul that are well worth a visit, particularly if you want to teach your kids more about the history of the Ottomans and the architectural remnants they left behind.
Cappadocia
If you want to get active during your Turkish getaway, go to Cappadocia. This beautiful location not only offers you excellent opportunities to break a sweat in the outdoors but you'll also be able to see one of the country's most breathtaking landscapes.
You'll discover golden rock formations cover the scenery here and these chimney-pot shapes are Cappadocia's most distinctive feature. There are many ways you can appreciate the unique sight of the structures, such as going for walks around them or horse riding through the area.
For an aerial view, you can also take a hot air balloon flight. Children will love hopping in the balloon, as well taking in the strange sights below.
Cappadocia is also home to lots of underground houses and churches and caves, as it was once a refuge for Christians many years ago when they would have been persecuted for their beliefs if they had been found. With more than 3,000 churches made into these rocks in the region, you'll have plenty to see on your trip here!