Find the best central Goa holidays with Jewel in the Crown Holidays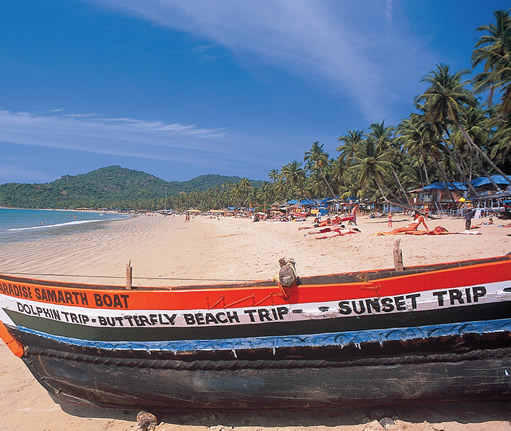 India is one of the world's most fascinating destinations for a getaway – and central Goa is among the country's most exciting areas when it comes to sun-soaked breaks in an exotic locale.
Golden beaches, sumptuous cuisine and historic sights aplenty can all be enjoyed on stays in central Goa holiday resorts.
If you're looking to book the perfect break to central Goa, Jewel in the Crown Holidays offers many options for you to choose from.
We work hard to put together central Goa holiday packages that allow travellers to see the very best of this wonderful region – all at great prices.
What to see and do on central Goa holidays
Central Goa differs from the northern and southern parts of the Indian state in that it offers more for holidaymakers seeking culture and history.
While it boasts just as much exotic scenery as the rest of Goa, the central part of the region is also home to numerous temples, cathedrals, churches and much more besides.
A good place to begin exploring the region is Panjim, the state capital.
Also known as Panaji, the destination harbours a number of the most popular hotels in central Goa and offers many reminders of the area's Portuguese colonial past.
Buildings constructed in the Portuguese baroque style rub shoulders with taverns, villas and picturesque churches – particularly the Church of the Immaculate Conception – and dazzlingly whitewashed homes along the streets of Panjim.
The town's Latin Quarter is a wonderful place to explore thanks to its twisting lanes and colonial architecture.
And if you fancy heading out on an excursion, travel east of Panjim to find Old Goa.
This historical destination is where many imposing churches and cathedrals were built to persuade the local population to convert to Christianity.
A UNESCO World Heritage Site, Old Goa's highlights include the 16th century Chapel of St Catherine and the Church of Bom Jesus, which is the final resting place of St Francis Xavier's remains.
If you're keen to combine sightseeing with more relaxing pursuits on your central Goa holiday, you may want to consider spending some time in Vainguinim Bay.
The coastal destination – which can be found 7 km to the south of Panjim – has a beautiful beach and offers the chance to indulge in activities such as jet skiing and water skiing, as well as sunbathing and gentle walks by the sea.
Book central Goa breaks with Jewel in the Crown Holidays
If you want to take in some of the amazing sights of central Goa, see what Jewel in the Crown Holidays can do for you today.
We are a well-established independent provider of Goa holidays with a history going back around 20 years and we always strive to make your break an unforgettable one.
Our staff regularly visit resorts in central Goa and liaise with the Indian tourist office and local hotel owners to make sure they provide the best experience for our customers.
We can also give advice on the best tours and excursions to book once you've arrived in Goa.
All of our holidays are ATOL-protected and we aim to offer competitive prices for our packages, which include flights and accommodation – so you might find yourself spending less than you think!
For a great range of central Goa holidays, get in touch with Jewel in the Crown Holidays today and see how we can help you put together your ideal getaway.
---