Travel blog: Mooching around Paris markets
Wednesday, 19 May 2010 12:00 AM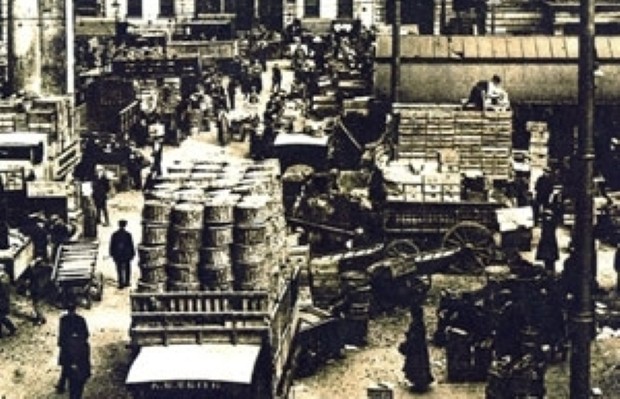 Sandra Shevey, street market historian, walking guide and campaigner is blogging for Travelbite.co.uk about street markets in the UK and across Europe. Here is her first blog entry on the famous flea markets of Paris:
When asked by BBC radio presenter Eddie Nestor at which market I purchase my knickers I replied: "I don't buy my knickers at the market. I don't buy clothing at the market." When clients of mine enthuse over the clothing bargains at Petticoat Lane and/or Church Street and hasten to make purchases, I grimace.
Why do I grimace? Fleas, of course. I'd be afraid I'd find lice and/or fleas and thus avoid purchasing anything touching the skin.
The French on the other hand take all of this in their stride and actually call their markets 'les puces' or 'the fleas'. These old dears present a real alternative to the shops and the stores in terms of cost and also accessibility. For whilst all of Paris is closed on Sunday, the fleas are robustly selling from sunrise to sunset.
Les Puces de Paris Saint-Ouen is the oldest flea market in Paris. Open Saturday, Sunday and Monday from 09:30 – 18:00, the market boasts over 2,000 stalls or "shacks" hanging about in alleys, closes and muses and according to the original design of founder Romain Jules Vernaison who set up the place in 1918.
The louche atmosphere survives, thankfully, and whilst there are a good number now of prosperous dealers there are also traditional rag-and-bone men and secondhand merchants.
This is a real market, and while in some ways it resembles Portobello or Petticoat Lane the quality and cost of merchandise put it in another class altogether.
Of course it helps to speak French but nowadays and since joining the EU, the French are infinitely more compassionate and help you along. I grunted a patois Franglais and when that failed gesticulated madly. We got there in the end.
I made for the Saint-Ouen near Clignancourt on Saturday as I thought this is when you get the best bargains. By Sunday and Monday, most of the good stuff has already been sold. Wrong!! The good stuff is endless or seems so.
The stalls look like ancient caves and are a real time warp. They take you back to another era, a more authentic time. Many of the traders don't speak a word other than French and only come to Paris to do their business.
They are rustics in a way that is now unknown in Britain as the whole of this country comes within the commuter belt. The traders are discreet, characteristic and slightly xenophobic. They are not 'out' for your custom and thus do not gush and/or enthuse. That said, they are accommodating and helpful.
Do you love exquisite things? Linen, cashmere, fine cotton and silk? Embossed and/or crocheted?
Janine Giovannoni, stand 141, alleys 3 and 7, has some of the oldest and loveliest beddings, shawls, table linens and other accessories dating back to the Victorian period and even earlier. The stall suggests your Gran's attic if, that is, she happens to be French. Victorian drawers and cabinets surround and there is a marble-top table with shelves underneath all chocka with tempting purchases. A few large open trunks suggest a theatre set and are piled high with period clothes – a Balmain two-piece (petite – ah shucks!) for 40 Euros and an inexpensive Burberry in perfect condition (for pennies).
There is a massive shawl spanning an entire wall that reminds of a grand tapestry. Made in Lyon in 1850 it was priceless at one time and even now retails for hundreds of Euros.
But what caught my eye was the pair of black lace-up nun's shoes, c1910. They're in great condition, handmade, pure leather and are a steal at 50 Euros. What made me look? They're an exact match to those worn by the fake nun in Alfred Hitchcock's film The Lady Vanishes.
This is a market where you'd expect to see artists and writers and you wouldn't be wrong. Raymond Savignac, the Magritte-style artist who died age 94 in 2001, was a friend of Pascal who runs a shack in alley 7. Thus this stall is chocka with 250 original posters, plus postcards, Christmas cards, mugs, ceramics, watches and pins. You'd better hurry as they're fast disappearing.
Les Puces Saint-Ouen does not encourage `browsing` so beware. I was roundly criticised for asking about a lovely watercolour 18thC of the Cadiz market without intention to buy.
As I say, the quality is impressive. You'll always find the unexpected, the unusual. One trader had a menagerie of sculpted stone animals and birds- large and small, including lions, giraffes, hyenas and others. Amazing!
The market gets all sorts of buyers from locals, French day-trippers, Americans (on the make), even Russians. Let us not forget in times past (and probably even today) that French was the second language of the Russian bourgeoisie.
A Russian couple purchased a 1750 gilded bronze bowl with decorated lions at Maison James (alley 4, stand 20). The bowl is a repository for wood to warm the fireplace at their huge old cold Moscow flat.
But the gilded bronze was not the loveliest or the rarest piece. Maison James also had a French Empire backgammon table (4,000 Euros) and a 1750 Bavarian chest of drawers with inlaid marquettry, gold handles and marble top. Luckily I am not the envious type….but oooh to have been able to afford it!
I walked my feet off until closing time when I repaired to a louche Arab cafe (within the market precinct) for a cup of tea which the owner piled high with mint. The locals were dears and pressed a cup of their own upon me. I resisted. I preferred to pay my way. The owner stuffed the cup with mint so green and so fresh it looked like it would bite.
You hear stories about the Paris markets and theft and rip-off … about xenophobia … all untrue. At least as far as I could see. Everyone was friendly, cheerful and helpful.
It really was a satisfyingly exotic adventure in an otherwise prosiac week.
Parts II and III on Paris markets to follow.
Sandra Shevey
Sandra Shevey runs walking tours around street markets around the world. Contact: sandra_shevey@yahoo.com
Sandra travelled courtesy of Eurostar and stayed at Hotel Keppler.
Copyright Sandra Shevey 2010 All Rights
Read more from this travel blogger.
Follow us @travelbite