Skiing France's Three Valleys on a budget
Tuesday, 28 January 2014 9:09 AM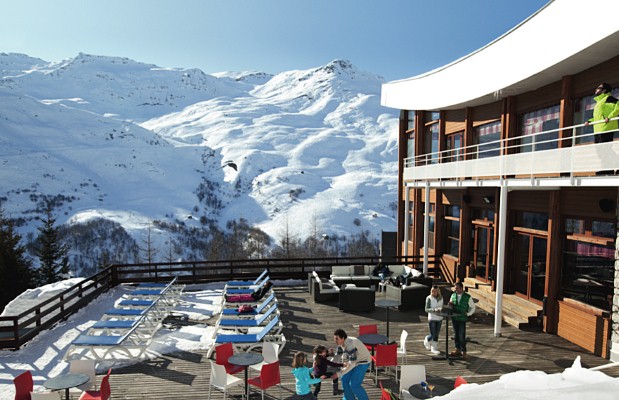 By Sarah Gibbons Follow @SarahGibbons_
Les Menuires is the affordable alternative to neighbouring Courchevel and Val Thorens in the Three Valleys ski region, Sarah Gibbons discovers.
The luxury surrounds of Courchevel and the party hotspot of Val Thorens may be among the first resorts skiers think of when planning a trip to the Three Valleys, but Les Menuires – sandwiched in the middle of the vast ski region – is the perfect compromise.
Founded in the sixties, the resort of Les Menuires consists of nine distinct quarters, namely La Croisette, Preyerand and Reberty. All linked by pistes as well as gondolas and lifts, the different areas differ slightly in their architecture, with modern constructions dominating La Croisette and more traditional chalet-style buildings in Reberty.
La Croisette at night
It may not have the glitz and glamour of other resorts, but Les Menuires does have Alpine charm – especially in its range of traditional Savoyard lunch spots and cosy bars. It is hugely popular with families as well as real ski aficionados who want the largest ski terrain in the world on their doorstep – all 600 kms of it, linked by lifts from the farthest corner of Courchevel to the heights of Val Thorens – for the best possible price.
The local lift pass for Les Menuires and Saint Martin – a pretty, quaint Alpine Village at the foot of the main ski slopes – is more than enough for most skiers, costing a very reasonable 170 euro per person. It includes over 80 well-groomed pistes, ideal for all levels. For 37 euro (the daily rate) you can upgrade your lift pass for the entire Three Valleys ski region – a great option if you just want to explore one or two of the neighbouring resorts for the day.
As an experienced skier I was very impressed by the resort and the variety of slopes on offer, from the great runs on the Pointe de la Masse Mountain region, (the resort's highest point at 2,804m, overlooked by the resorts icon, the Alpine Ram) to the fun snow parks where I attempted small jumps and speed runs.
Having a guide for the day was a great option early on in the trip, and our ESF guide Laurent expertly guided us around the resort, both on and off piste (there's a huge amount of terrain to explore off the beaten track) ending up in a great sun-drenched terrace restaurant for lunch.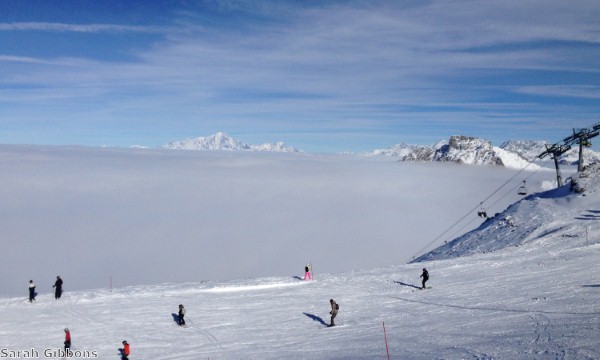 Above the clouds, overlooking Mont Blanc
My base for the week was the Neige et Ciel Belambra Club. A sprawling set of buildings, the Belambra Club's best feature is its location, a few minutes' walk from the main lifts in the La Croisette area. It was real ski-in-ski-out accommodation, which as any keen skier knows, is the number one priority for a ski holiday (lugging skis and boots around is a real pain).
Another advantage was its in-house ski equipment hire which was really handy after a day's travelling; the process took mere minutes and we were all set up for the next day's skiing without a fuss. Each room comes with a code for a locker where skis and boots are stored and once all kitted up, an adjoining door leads you directly out onto the slopes
I wouldn't normally opt for all-inclusive accommodation, preferring boutique-style hotels as a rule, however when it comes to skiing – an undeniably expensive holiday – going all-inclusive is definitely the best value option. This is especially the case when it comes to catering for whole families – a speciality of Belambra Clubs. The club has a host of attractions and amenities to keep youngsters of all ages occupied and entertained, from games rooms to kids' clubs. I also noticed the generous selection of food options at the buffet for children in the evenings, which is a big plus for families.
Neige et Ciel Belambra Club room
The rooms are functional and reasonably spacious and my 15th floor location (luckily accessed by lifts!) was nice and quiet. Free WiFi is on offer in the communal areas (reception and bar) but unfortunately not in the rooms, which would have been useful.
The club does have access to a modern local pool and spa five minutes' walk away which you can access for a 15 euro daily fee. This is a good option for when the weather isn't great, but perhaps a bit pricey if you're just looking for a quick sauna to ease your tired muscles after skiing.
It was nice to sit on front of the fire in the bar in the evenings and the huge variety of food on offer for dinner was a big plus. From soup to a generous selection of salads and hot options, there was more than enough choice for everyone's tastes. The dessert selection was always excellent and I liked the idea of having red or rose wine on tap. We ate out a few nights but having half-board accommodation (breakfast and lunch or dinner) really cut costs considerably.
The Three Valleys is certainly one of the best ski regions I've visited and I'll definitely be back to explore more of this extensive ski terrain. For those after an affordable break, staying at the Neige et Ciel Belambra Club in Les Menuires is just the ticket.
By Sarah Gibbons
Fact box:
Prices for a seven night stay at Belambra's "Neige et Ciel" club in Les Menuires start at £457 per person, half board. To book, visit www.Belambra.co.uk.
For more information on Les Menuires click here, and The Three Valleys click here.